How to Buy A Ukulele in India: The 2021 Ukulele Buying Guide
If you are curious or just stumbled upon the instrument Ukulele, and want to learn everything about it – including the buying guide, you are at the right place.
The best thing about ukuleles is that they can be played by anyone of any age. Anyone willing to learn can simply purchase one and start practicing it.
When buying a ukulele, there are so many things to keep in mind – from the right brand to picking a price bracket to picking the ukulele itself.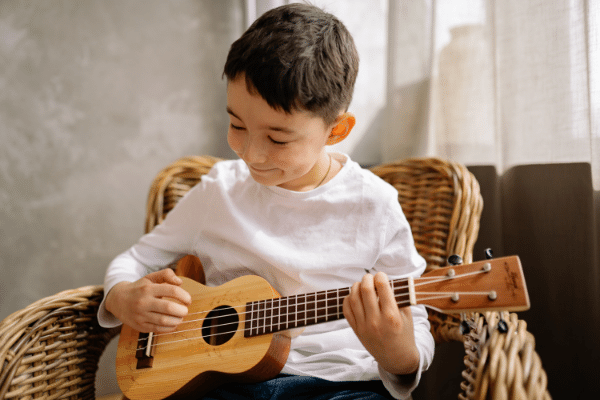 It's seems like a big task. right?
Naah! That's why this article is there to help you.
In this article we shall cover:
Brief Introduction to Ukuleles

Ukulele vs Guitar

Different ukuleles sizes
Ukulele buying guide in India
Best brand & price in India
Music Genre for Ukulele
Along with the article to guide you on choosing the ukulele for you, we shall also recommend few ukuleles that has stayed on top of our recommendation lists.
That should help make a decision without much hassle.
Let's begin!
Featured Articles
What is a Ukulele?
Ukulele (pronounced as 'YOO-kə-LAY-lee') is a four-string instrument that is similar to but much smaller than the guitar.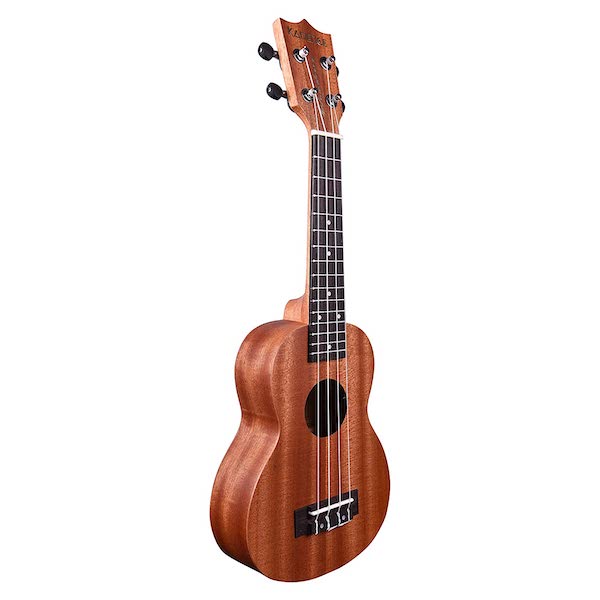 Ukuleles are a type of lute instrument that is becoming increasingly popular around the world.
It first gained popularity in the United States in the early twentieth century, and they are now known all over the world.
They are commonly used for happy rhythms and calm music.
As they are smaller in size, it's great for playing on the go. You can take this for travel, sing and play while camping out in the firewoods.
The small form factor also attracts kids to start learning to play. I believe this could be a great gift to anyone who loves singing music.
The tone of these ukuleles can vary depending on how they are shaped and constructed.
Ukulele vs Guitar
In a simple terms, it's the size and tonal differences between the instruments.
Let's break it down.
The guitars' sounds are louder and brighter. Ukulele tones are softer and warmer. The sound of a ukulele is the most vibrant, whereas the sound of a guitar is more versatile.
You may or may not like it, depending on your preferences.
Because of their smaller size and scale length, ukuleles have fewer tone ranges and playing styles than guitars (fretboard length). Guitars, like stringed instruments, have an advantage in this regard.
When it comes to the materials used for the strings, most guitar strings (except for classical guitars) are metallic, whereas ukuleles use nylon strings or material with similar nylon properties.
Ukuleles are more comfortable in hand, and better in playability as it gets easier to place fingers on the chords.
Overall, ukuleles are bit easier for a newbies to start learning as an instrument.
Different Ukuleles Sizes
Just like guitars have so many different versions like – acoustic, electric, classical, and more, ukuleles are available in many varieties too.
There are almost ten different types of ukuleles. But you don't need to know them all.
The four major ukuleles you should be knowing are – Soprano ukulele, Concert ukulele, Tenor ukulele, and Baritone ukulele.
The ten types of ukuleles are –
Soprano ukulele: This ukulele is the smallest in size, with a full length of 21 inches. It's available at a very affordable price and is the most common ukulele in stores.
Concert ukulele: The tuning for a concert ukulele is the same as sopranos. This measures roughly 23 inches in full length and is slightly larger compared to the soprano.
Tenor ukulele: With a longer body of about 30 inches long in full length. Hence a slightly higher bass and less resonant sound.
Baritone ukulele: The baritone ukulele is wider and longer, measuring 30 inches in full length. It has a richer and deeper sound as a result of this.
Guitar ukulele: This ukulele has six strings just like a guitar.
Bass ukulele: Its tuning is similar to the tuning of a bass guitar, but with the body of a baritone ukulele.
Banjo ukulele: This instrument is similar to the banjo but in ukulele form. It has a distinct sound that is similar to that of a banjo.
Electric ukulele: They are ukuleles that can be electronically amplified just like the electric guitars.
Sopranino Ukulele: Sopranino ukuleles, though not widely known, are very small ukuleles that are smaller than a soprano ukulele. It is only 12 inches long in full length.
Pineapple ukulele: They are one of the cutest ukuleles on this list. Its ukulele body is shaped like a pineapple. This gives it a louder and sweeter tone.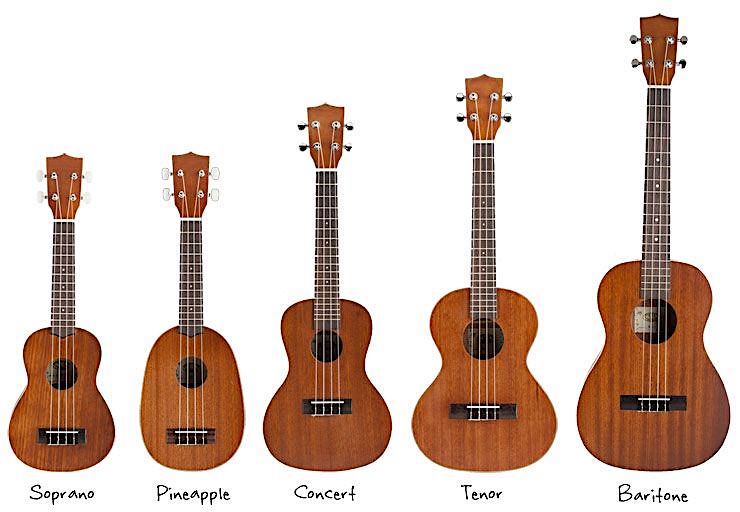 With this increasing sizes of Ukulele, the sound accompanies a gradual lowering of sound because of less resonance space in it.
For this same reason, as you go for ukuleles with a larger size, the sound gradually lowers and tends to have more bass.
As a result, Baritone ukuleles sound more like acoustic guitars.
Check the below table that shows the standard tuning of different Ukulele types.
| Ukulele Type | Tuning |
| --- | --- |
| Soprano | G-C-E-A |
| Concert | G-C-E-A |
| Tenor | G-C-E-A |
| Baritone | D-G-B-E |
This basically means that you can pick any soprano, concert, or tenor ukuleles, and you will easily be able to switch between them as they are all tuned to the same G-C-E-A note.
In terms of the number of frets available:
Soprano with the smallest size has approximately 12-15 frets.
Concert ukulele has 15-20 frets
Tenor ukuleles have 12-25 frets
Baritone ukuleles have 18 or more frets.
Ukulele Buying Guide in India
1. Choosing the Right Ukulele Brand
Choosing a good brand for your ukulele is always necessary.
Be it any product, a consumer is primarily concerned with the company's manufacturing quality, brand signature, and after-sales support.
Kala, Kanile'a, Kamaka, Martin & Co., and Cordoba are some of the most reputable ukulele brands in the world.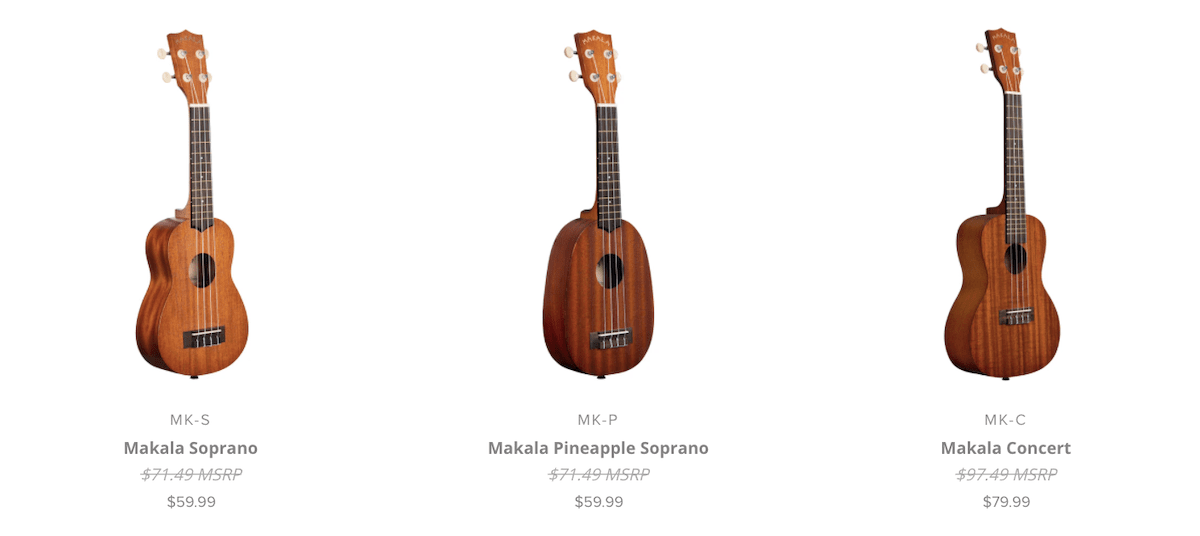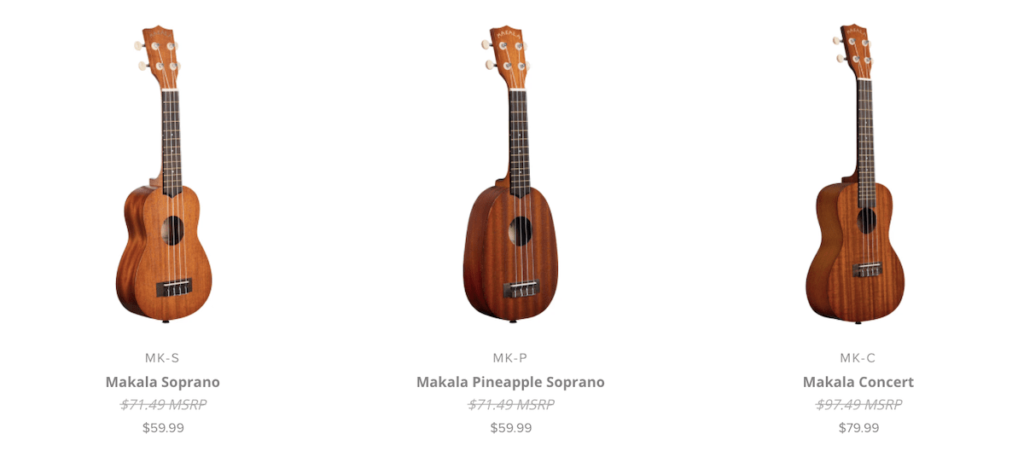 In comparison to India, where ukulele brands are still in their early stages, we have Kala, Kadence, and Mahalo brand ukuleles. You can read more in our article – the best ukulele brands in India.
2. Pricing of Ukuleles in India
Talking about the the cost of ukulele in India, it starts around Rs. 2000 and can go all the way to Rs. 25,000.
If you find ukuleles for cheap prices from other brands, I recommend you avoid them. At a minimum, Invest a good Rs. 2,000 in sopranos, and you're ready to begin learning.
Among the four major ukuleles, their prices are roughly estimated:
Soprano ukulele – Rs. 2000 to Rs. 5000
Concert ukulele – Rs. 6000 to Rs. 10,000
Tenor ukulele – Rs. 6000 to Rs. 10,000
Baritone ukulele – Rs. 15,000 max
To start picking ukuleles right away, read these:
3. Type of Ukulele
The scale length of concert and tenor ukuleles are longer than soprano. For this same reason, if you have large hand and fingers, you might find it difficult to switch between chords easily.
In that case, it's recommended that you opt for concert or tenor ukuleles.
Soprano has a shorter scale length of 19″. (nut to saddle length). Those who don't mind frets being closer together can opt for soprano ukuleles.
There are make ukulele players who love soprano ukuleles, and they are completely happy with it.
Also, don't get obsessed with finding the best ukulele "size", Instead head over to an instrument store and take experience in hand.
When you find the one comfortable ukulele, I am sure you would love to expand and try all other collections of ukuleles.
Music Genre for Ukulele
The vibrant and rich music sounds allows ukuleles to be used in songs which are pretty much happy and soothing to hear.
Those who love pop, classical and folk music genre, are surely the ones to prefer ukulele more.
If you have the habit of closely listening to sounds used in music, you have come over the songs that have featured ukuleles exclusively. The popular ones are:
Final Words
Ukulele are one of my favourite steel-stringed musical instruments, besides guitars. They both have a lot of things in common, at the same time are best for distinct music genres.
If you a guitarist who has never played ukuleles, you should try it once. Believe me, it's a great experience!
For a beginner, there is nothing more to do than select a ukulele using the helpful tips we provided in the article and start learning to play.
Go Uke!