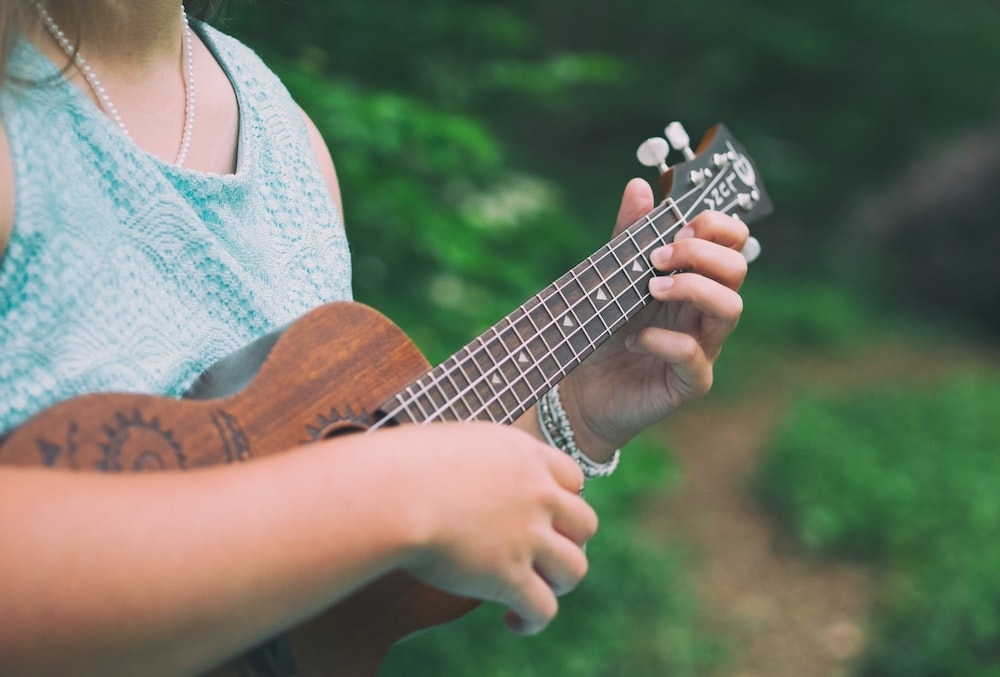 Are you thinking of buying the best Ukulele for beginners and experts in India? Everybody loves Ukulele.
You too should be. That's why you are here.
Ukulele, better known as the small-guitar, is another type of guitar that's small in size with only 4 strings. Its spelled as you-ka-lay-lee.
It adds in a special musical touch to mainly classical and country genre music. But don't get yourself wrong, Yes you can play any song with this.
Why is Ukulele Easier to Learn?
Most guitar enthusiasts (or people who play for fun) prefer Ukulele as it takes very little time to master this compared to the traditional big guitar.
Before buying Ukulele, you must understand the tiny bits and details of it, because it is going to be helpful to your someday, and also you got to tell others why you picked up this certain Ukulele.. right?
Even for the smallest details such as frets, saddle, and shape of your Ukulele, Have a small understanding to choose the best one for you.
Surprisingly, we have a solution to make you learn this even quicker. Here is a video from Sayali Tank, talking of everything you need to know about Ukulele in a single video.
Types of Ukulele
This is how roughly we can classify the different ukulele's based on their shape and size. The common ones are soprano (standard ukulele), concert, tenor, and baritone.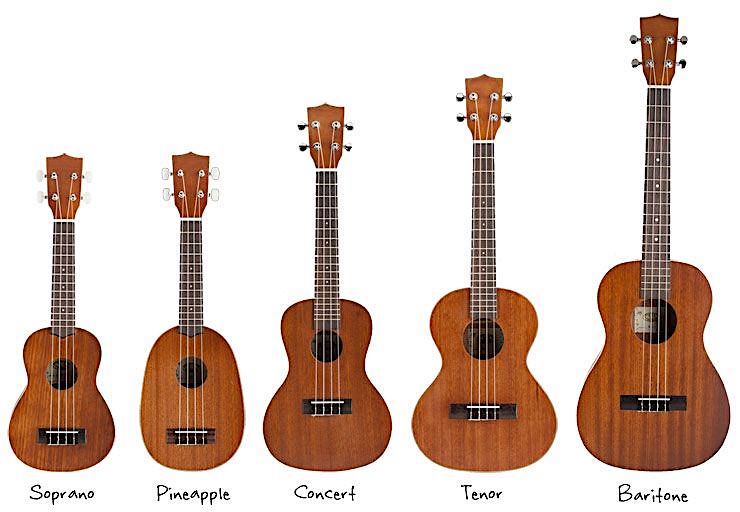 With this increasing sizes of Ukulele, the sound accompanies a gradual lowering of sound because of less resonance space in it.
So small ukulele's has higher sounds, and bigger ukuleles have lowered sounds.
Hence, Baritone ukuleles are preferred to make bass sounds in music. In fact, they resemble more similar to a guitar. In case you are looking for a guitar, do head over to our best beginner's guitar guide.
The Soprano is the smallest in size, with almost 12-15 frets. With higher frets of 15-20 comes Concert type ukulele, Tenor with 12-25 frets, and finally Baritone ukulele with 18 or more frets.
Which is the Best Ukulele for me?
Choosing the right ukulele is important for better playability & feeling comfortable while holding the ukulele. This the same advice we give while buying guitars.
It would be great if you can go in the market, or ask friends to get the feel & size of the ukulele in hand to understand the right one for you.
If you closely notice, the size of the frets is smaller on the Soprano compared to the larger Concert or Tenor types.
Hence Soprano is better for small/normal finger-sized people…and Concert or Tensor for the rest.
Go for Baritone ukuleles if you have large fingers and want bass sounds. Otherwise, a normal Soprano ukulele is the best for you.
Ukulele Price in India
The cheapest of all ukuleles in the market is Soprano, starting at a price of Rs. 1200. Other ukuleles start from Rs. 2500, and can go all the way up to Rs. 25,000.
I highly recommend you to not fall for cheap prices, investing a minimum of Rs. 2000 will give you the best one.
Of course, this is to get the best ukulele that not only lasts longer but has better sound quality and is value for money.
Let's start listing 'em.
Best Ukulele for Beginners & Experts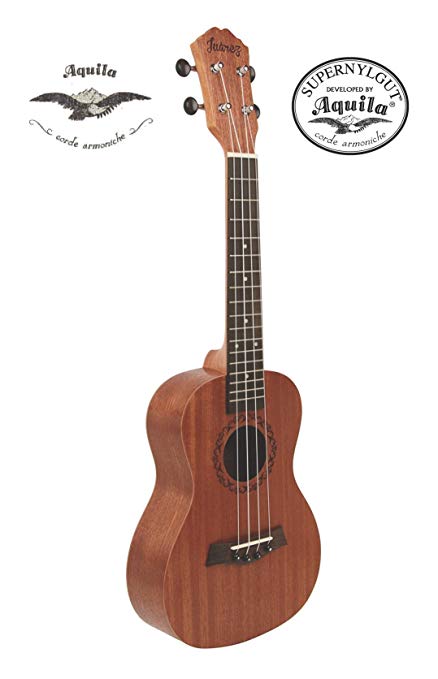 This Juarez ukulele is the perfect 23″ sized concert type ukulele.
It is one of the most rated ukuleles on Amazon.
We recommend this guitar to anyone who is just starting out with their ukulele journey.
From the guitar brand that makes guitars for beginners and value for money quality, Juarez ukulele is the right one.
Juarez ukulele is easily tunable, comes with great construction material of Sapele Body & Rosewood fingerboard and bridge.
Comfortable to hold and play the 18 frets. The only downside is that this is only for beginners who have low budgets.
Features:
Small-sized 23″ & Features 18 frets
String type: Nylon type classic – 4 stings
Ukulele Gig Bag and 2 Picks Included
Very easy tuning
It's 100% worth it for the price, and will definitely help you master the basics before shifting on to the next ukulele in the future.
This Kadence Ukulele is 24″ sized ukulele, Preferred for both beginners and professionals. It's having nylon strings, great build quality – Spruce body & others of Rosewood.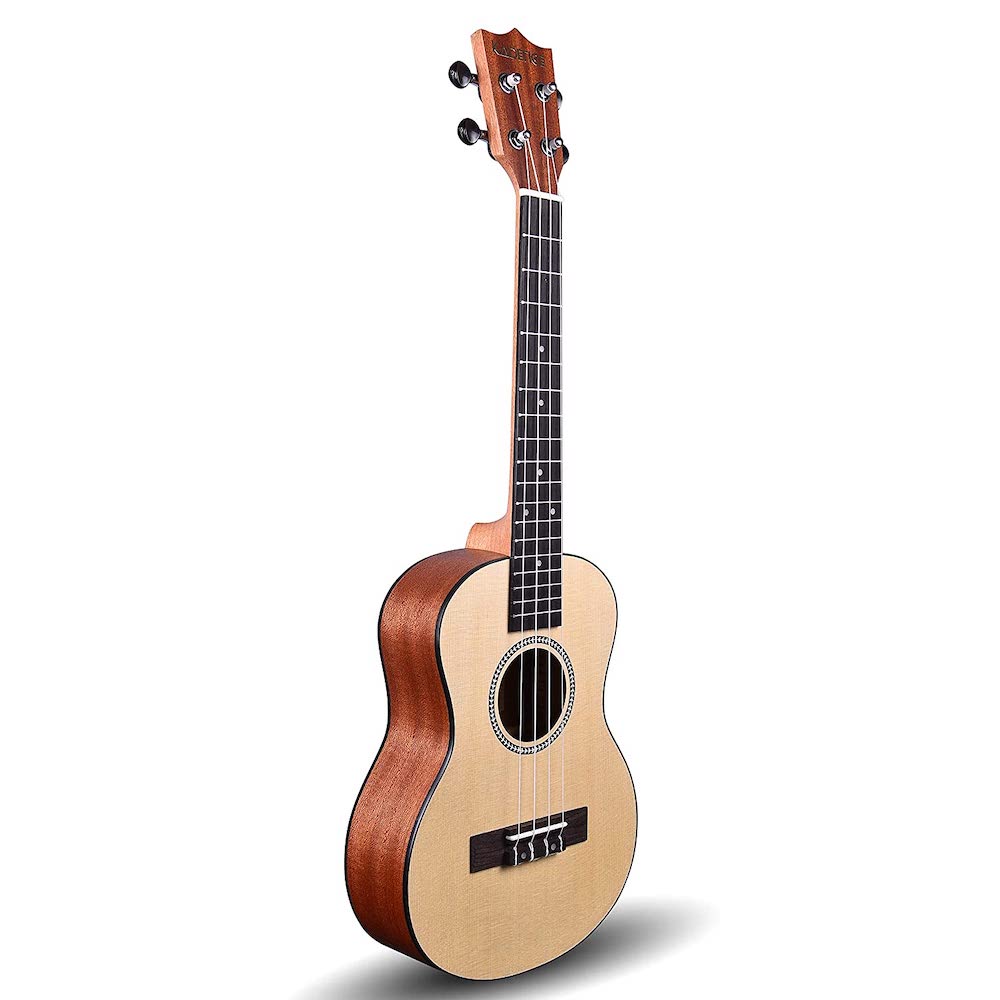 Sound quality is definitely the positive side, featuring bright warm sounds, the tone really plays expected.
Just like the soprano, that typical classic ukulele sound is observed here, with a bit loudness.
If you want a professional guitar and you are good at this budget price, then this is the right one for you.
Kadence ukuleles & guitars are exclusively made for beginners, however this one is made for both professionals and beginners.
Features:
Concert Size Ukulele & Nylon strings
Made for both Professional & Beginners
Bright warm sound
Weight: 821g & Gig Bag Included
This is the same Kadence Soprano version just like the above guitar.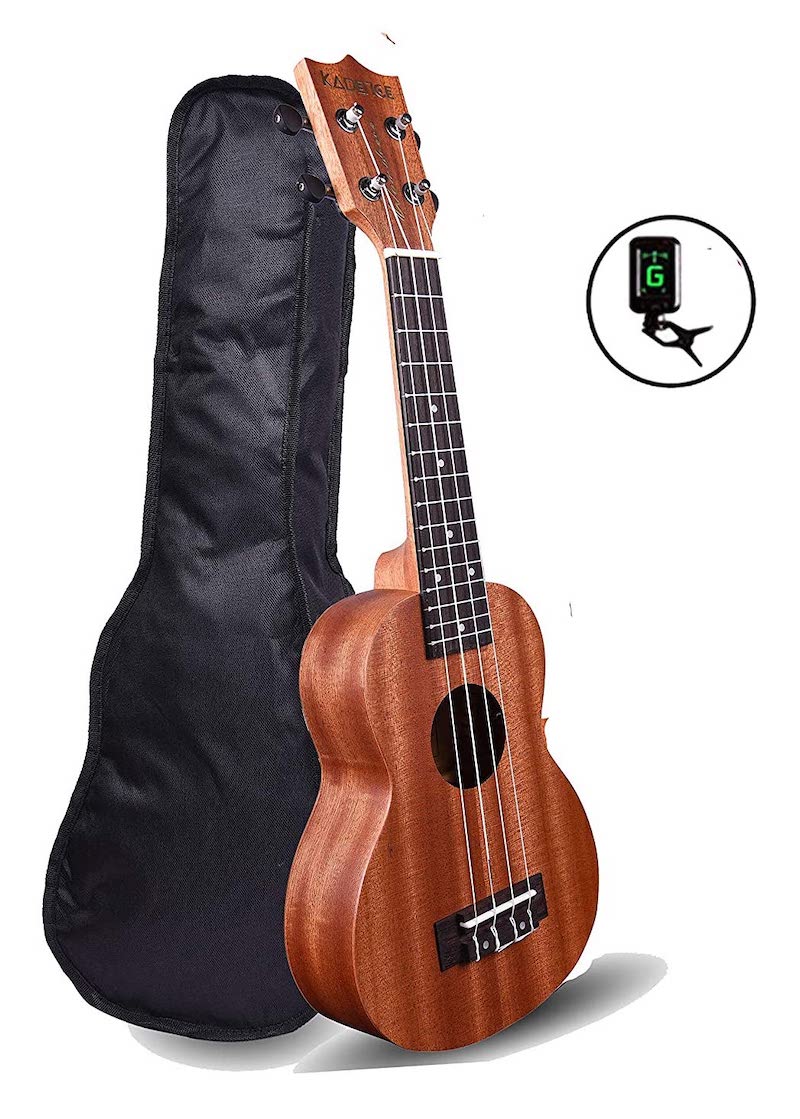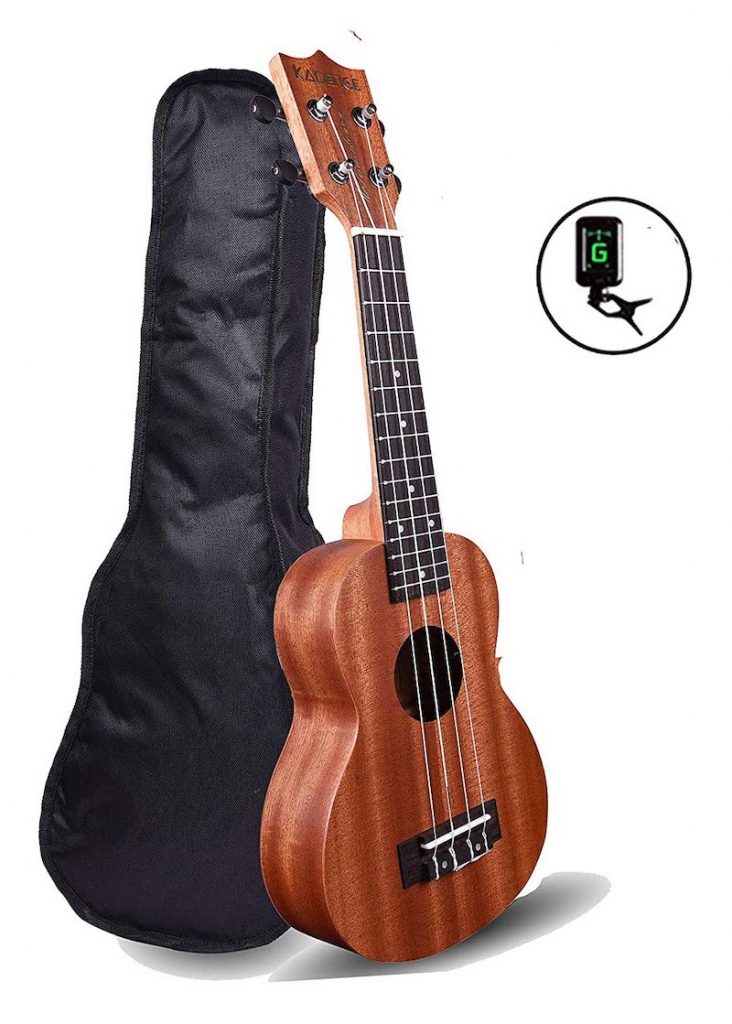 Its body is made up of a Mahogany dark wood, giving it the dark brown finish.
This ukulele produces a deeper, warmer tone rich sound.
The acoustic sound from this ukulele is itself enough to make you buy the guitar in the first place.
Like soprano has small frets, It will take time to get used to reaching each fret with ease.
If you don't want to take rise, go for the concert type Kadence ukulele.
Along with this ukulele, you also get a basic tuner and a gig bag, which is also great for this price.
This is the most lightweight & handy guitar on this list – Martin Smith UK-212 at 372g, a decent pricing soprano ukulele kit.
Martin Smith is an international guitar manufacturer, and this ukulele looks just like its child version. This is specially designed for kids, who will love this sound.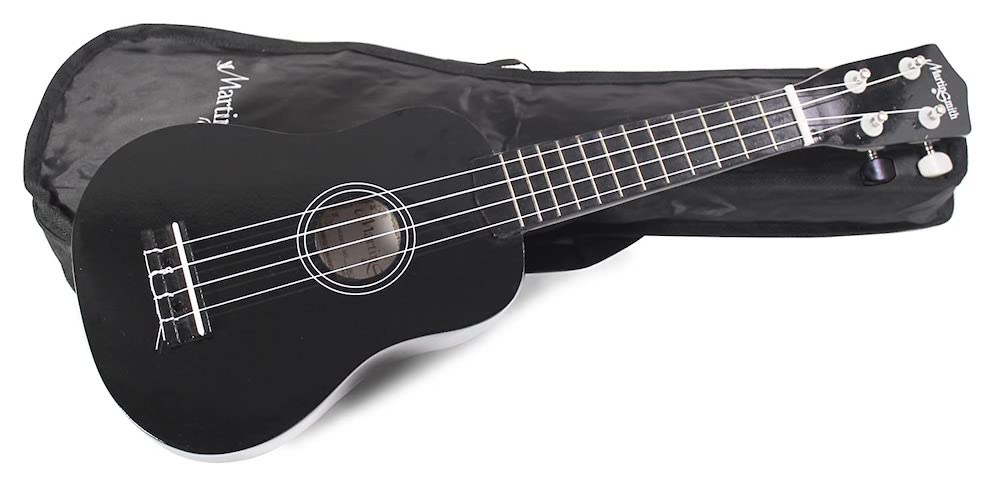 Features:
Soprano ukulele, 4 strings nylon
Designed only for kids
Pleasant tuned sounds
Weight: 372g & Bag kit Included
Constant tuning is the only downside in this ukulele, but satisfactory at this price.
If you are gifting it to your kid, this is the right choice from our best ukulele for beginners in India.
From another international brand, Vault has this Vault UK-003 Soprano Ukulele, at very sensible pricing.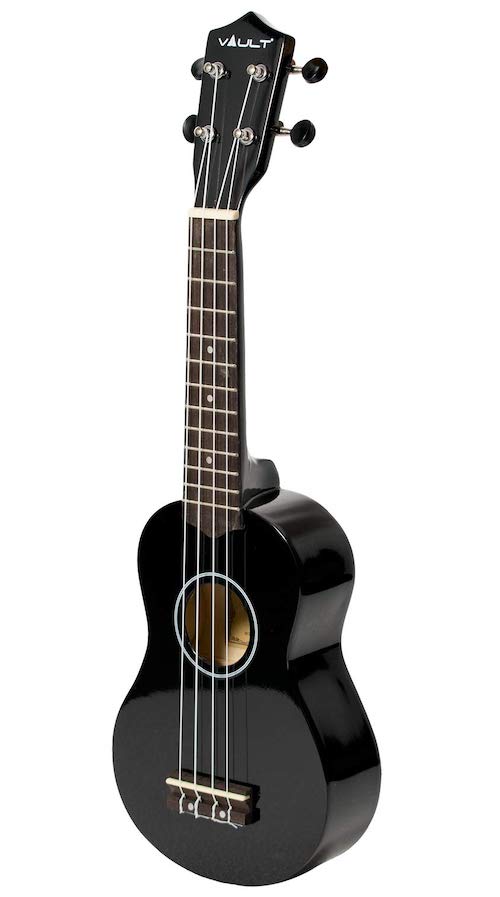 It's made for everyone if you are ready to play it.
The wooden finish on the ukulele is surprisingly the best along with the glossy counterparts.
We recommend this ukulele due to one main reason – its strings made of high-quality Aquila that sounds just amazing (better than nylon strings).
In fact, You can put these strings on a cheap ukulele and make it sound like a better instrument.
The tone of the ukulele is well balanced and soothing to the ear, recommended for everyone – beginners & intermediate level players.
This is overall a steal deal for your money and you are surely going to love it when you get to play in hand.
The ukulele comes along with a gig bag, picks, strap, and a spare string set.
The MK-S is a part of Kala's budget line and is one of the company's most affordable soprano-sized ukuleles made by Makala.
Hands down, one of the top-rated brands in ukuleles is Makala. They are exclusive manufacturers in Ukuleles and make perfect for the price ukuleles.
This is the brand review for ukuleles, have a watch to know why we too recommend Makala.
The craftsmanship is the main beauty of this ukulele, clean, loud, and sharp. This is 21 inches in size, made of Aquila strings (far better than nylon).
This is a professional tenor ukulele sounding rich and loud tones.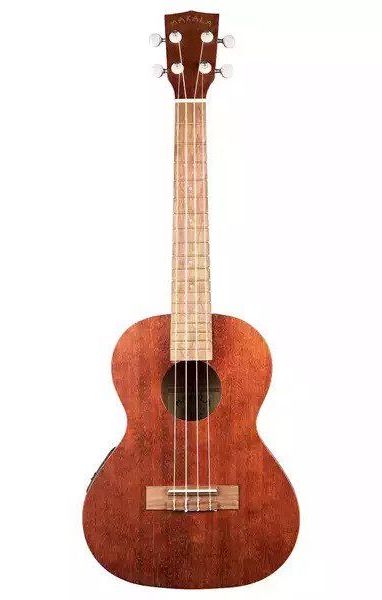 Features:
Well known brand, Makala
Tenor type, Mahogany Finish
Aquila strings, best quality strings
Professional & Long-lasting
Weight: 998g
If you have heard about the Makala brand before, now you heard it.
You will keep hearing it.
If you have a budget price, you will have made your best investment for a long time. This is the right to go.
Moreover, It's hard to find this item in stock.
While people still prefer low priced ukuleles for beginners, this Kadence concert-sized ukulele is a 24 inch ukulele available in this range.
The Ukulele sounds lively and is comfortable to play. It's easy for beginners to easily start playing this due to low-action just like guitars.
It made with nylon strings, with good quality wood. For a basic starters experience, you may opt for this ukulele.
Conclusion
Ukuleles can be the best instrument to travel outdoors and play with nature.
Ukuleles are recommended for both beginners and experts since this is for everyone who loves to pull strings.
I hope you have chosen the best ukulele for the value for your money. Make sure you receive your ukulele right in good condition, else you have to get a replacement. It's really simple.
…and if you liked our article or have queries, do comment below.
We would love to hear from you.
Keep the string ringin'!