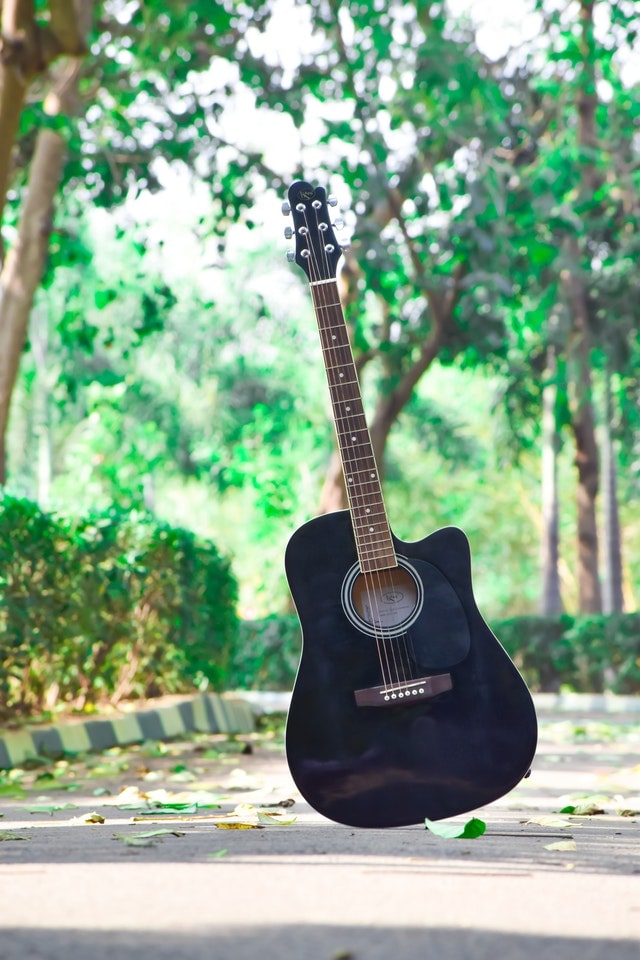 Are you looking for the best acoustic guitar for beginners in India? It's always confusing when you just keep looking and compare each guitar.
No mention how hard is it to find the best out of them. We have a detailed guide to help you make the best choice.
It's great to see that you have at least come here to buy a guitar. Believe me, it's a great instrument to master.
If you turn to the acoustic version of the guitar makes it sure that you have an affinity towards classical, country, folk music.
If your taste preference is to rock, metal type of music, We also have a guide to buying the best electric guitars in India.
There are several good impacts on playing guitar for our mental health, mind coordination, and avoiding drowsy moods. Read this great article on LibertyParkMusic.com
What's an Acoustic Guitar?
An acoustic guitar is a musical instrument in the guitar family, that projects the sounds of its vibrating strings acoustically through the air.
Unlike electric guitars that work on amplification system, acoustic guitar amplies sound within guitar body and thats what you hear it.
My personal advice to guitar learners would be to start with an acoustic guitar. Once you learn acoustic guitar, playing every other guitars becomes very easy.
This is the traditional type of guitar anybody would be referring to when they converse. It's easily learnable along with different playing styles.
This helps beginners improve their time on guitar, practicing the basics – scales, chords, chord progression, and riffs. You will immediately get to hear where you are going wrong and correct it accordingly.
Let's get into choosing the best acoustic guitars you are waiting for.
Acoustic Guitar Price in India
The price for a decent acoustic guitar can start from Rs. 5,000 at a basic level and can go up to Rs. 30,000 or more depending on if you want to invest that much.
If you are looking for high-end guitars, we suggest you buy them locally as most of them are not available online.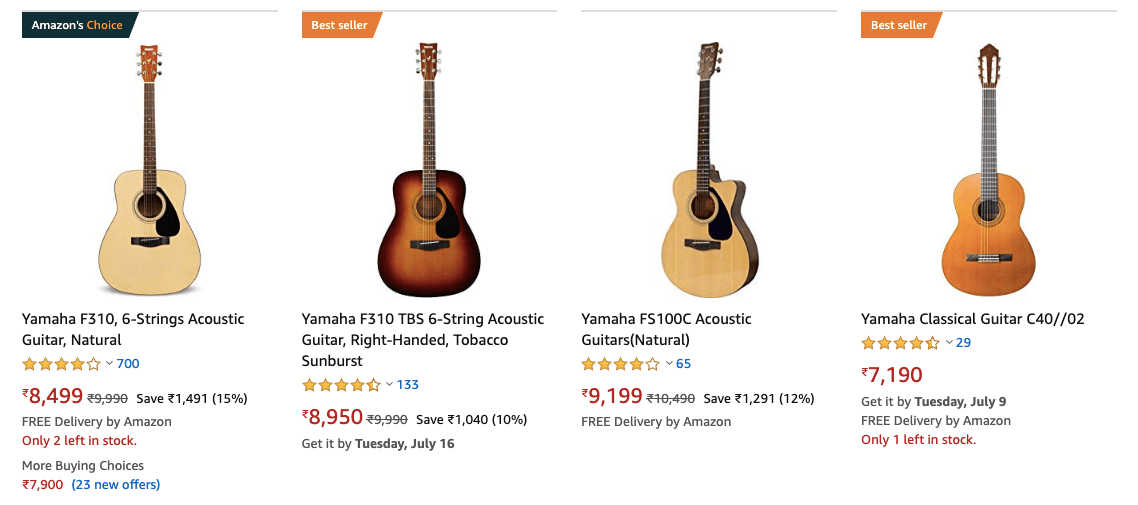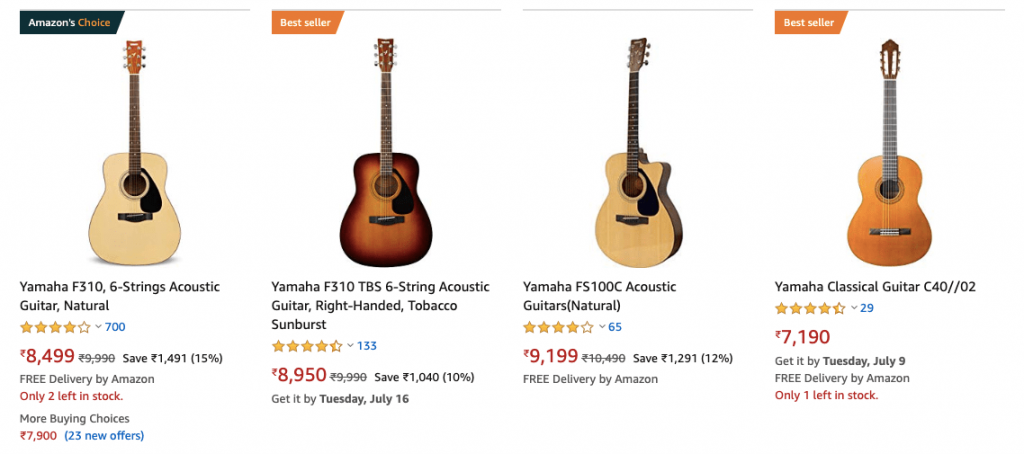 Two of the best acoustic guitar brands are Yamaha and Fender. Their brand name is been in the market for a long time & quality is always up to the mark.
You might be knowing that I say this all the time. Let me say again and again – Keep your guitar budget a 1-2k higher than your current.
A good professional guitar will last for a minimum of 7-8 years for sure.
Cheap Acoustic Guitars in India
If you have a definite plan of learning to guitars to the best level, then avoid buying cheap acoustic guitars that sell for under Rs. 4000.
I have seen a lot of beginners complaining about their guitar build quality, not so good sound quality, and buzzing sounds in the guitars.
Take this as an investment that will help you for once and all.
If you want to know what all to take care of while buying the best acoustic guitar for beginners in India, scroll down to the buying section guide.
Best Acoustic Guitar For Beginners & Experts in India
There are a lot of guitars we are suggesting here. It goes in the right order of our recommendation. You are pleased to buy according to the comparison of each guitar.
After a detailed study across different guitars, We reached to a conclusion to keep the budget below Rs. 10,000 for beginners.
Starting off with the best from our list is the Yamaha F310 TBS guitar, a 6 string acoustic guitar.
We have featured this guitar in many of our articles because we still believe it's the best. With the brand name itself, Yamaha has built this great quality product.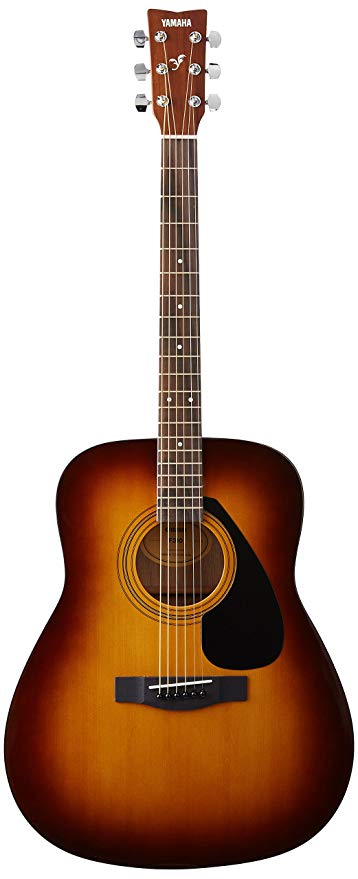 This classical guitar has a dreadnought style body, gives a comfortable holding and playability overall.
Specifications:
Weight: 2.44 Kg, 41″ inches size
Build on Rosewood body finish
6 steel-stringed guitar
Dreadnought styled – Acoustic feel
Features bolder & richer tones
Pros:
Great sound and strong bass.
Brand Name & Top-quality wooden
Its acoustic tone if perfectly tuned right can give some real professional concert-like sound quality.
This guitar is priced at a perfect price, ready to play for any acoustic genre music.
No other guitars in this price range can match up to its sound quality. That's why this is still rated the best selling product on amazon.
Ibanez MD39C-NT guitar is the guitar I have always felt is worth the buck. This is for those whose are planning to purchase at the lowest budget, its perfect for them.
This is the product I would recommend over from choosing other brands like Kadence, Intern or Juarez.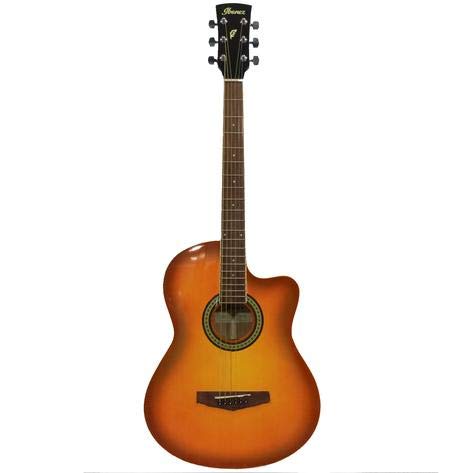 It's a 39″ inches guitar, not so small, but conformtable to hold acoustic guitar.
Unlike the lower buget guitars in this range, this comes with tress rods.
Truss rods help in action adjustment and also gives better build.
Its finishing is made of great quality – Rosewood and Spruce wood top.
Specifications:
Cutaway Model – with truss rod
Size – 39 inches – 6 Strings, 20 frets
Rosewood Finish – Spruce fret
Weight: 2.76 Kg
It's sound quality is great for the price, and with the cutaway its becomes easy for few beginners who like it with the cutaway.
Ibanez is an international guitar company that is well loved by popular guitarists. The highlighting part of this product is that its "Made in India".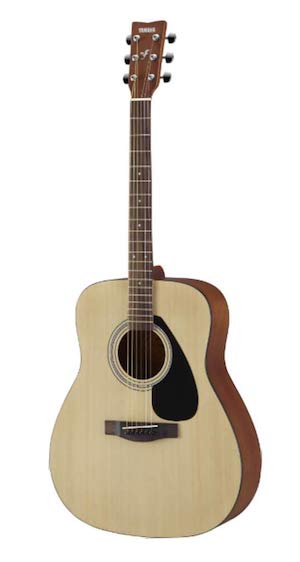 Yamaha F280 is the next best acoustic guitar you can get for an beginner or intermediate player.
They are very much identical to the previous F310 guitar.
This however has better string spacing and for fingerstlye players this will the best pick.
Specification
Full sized – 40.5-inch guitar
Material: Rosewood fingerboard, Gloss Top
Weight: 2.8 Kg
Pros
Best for fingerstlye players – Good string spacing
Bright Sounds, Good tone quality
Made in India
The sound quality is bright and is deep sound. Action level is good. The build quality is great as expected from a Yamaha guitar.
This will be the good choice if you plan to play fingerstyle more of the time.
Kadence Frontier Series has been top on the amazon top-reviewed list for a long time. We believe Kadence is a brand that is capable of toping up to the first position to the best acoustic guitar in India.
Ibanez is another guitar manufacturer in India, that produces guitars for mainly beginners level at an affordable but great quality price.
This Kadence Frontier Series is a 41″ inches guitar, whose fretboard and body is made up of rosewood and spruce material.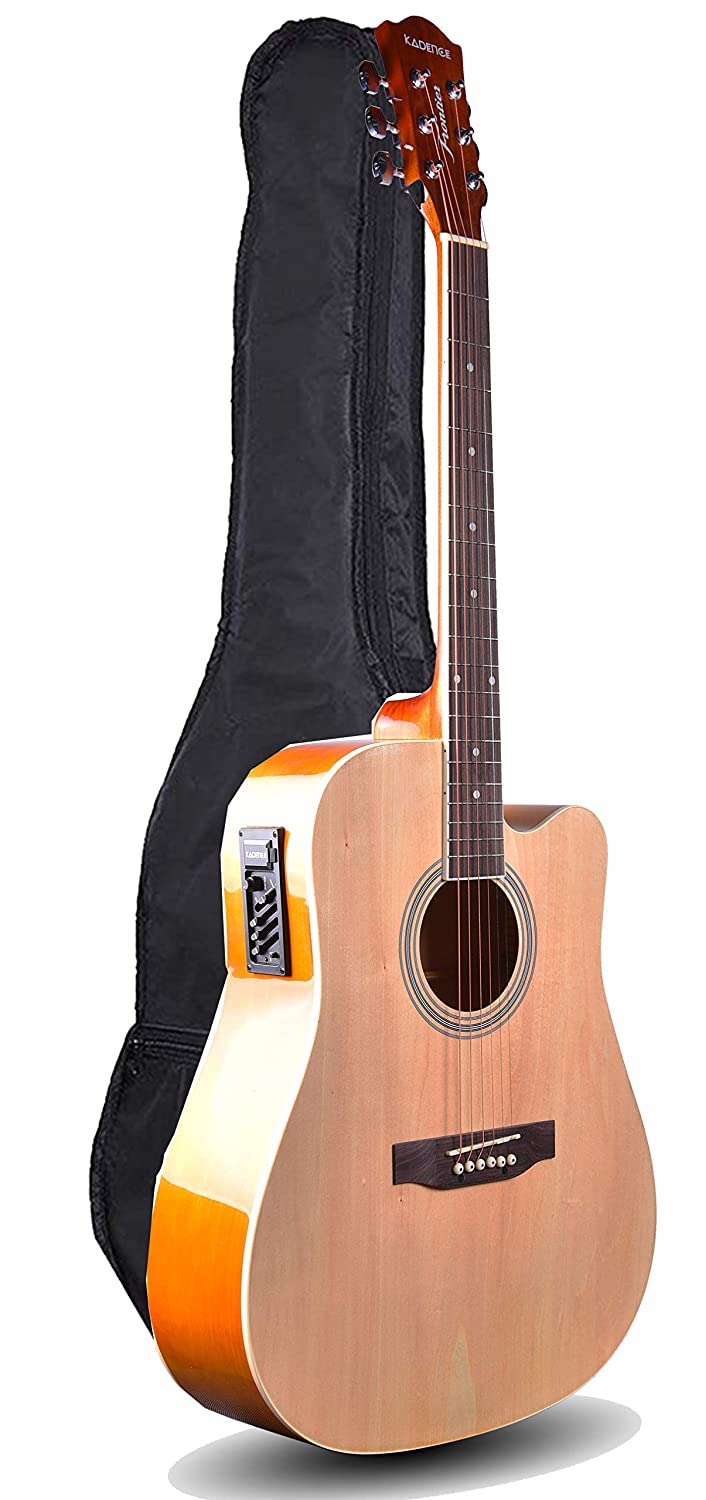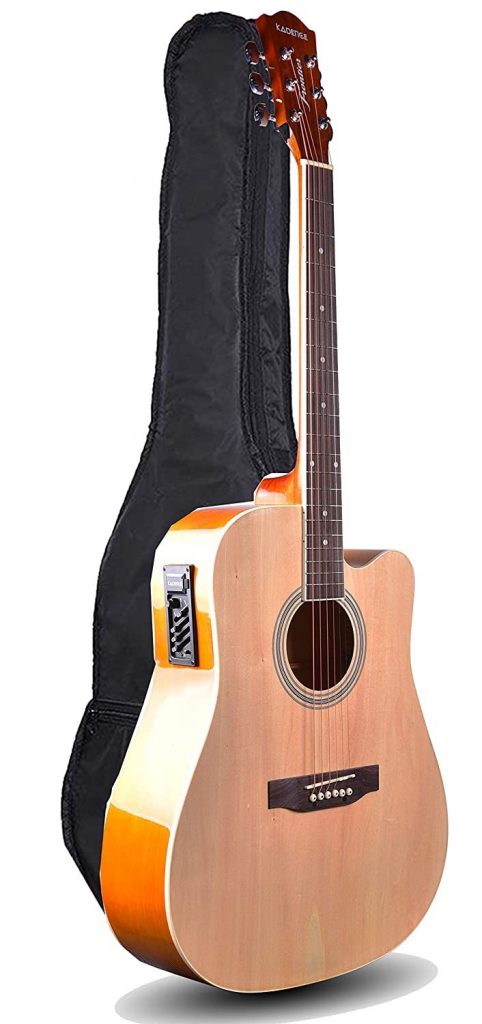 For the price, you can't go wrong.
There is a slightly more effort required than Yamaha F-310 for playing the chords.
Specifications:
41″ inches size, 2.74 Kg Weight
Build on Rosewood & Spruce body finish
6 steel-stringed guitar
Pros:
Great sound and cheap price
Also, this is a semi-acoustic guitar which means you can also connect to an amplifier and get loud quality music.
We added this to the #2 spot due to its comparable sound quality to expensive guitars in the market.
This Guitar also comes with additional strings, Case, Strap, and picks. This makes it a really good deal for both starters and professionals.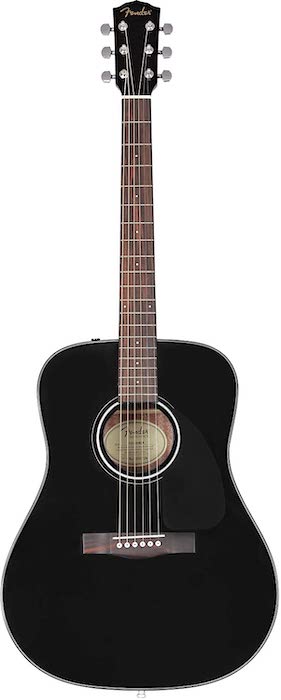 Fender is one of my favourite brands for the reason that it provides its signature sound in all their guitars.
This Fender CD 60 is their best model for the budget users who like to play at the experts level.
It sound quality is crisp and has a good balance of all the tones.
Its a little expensive when you compare with Yamaha F310.
However, if your sound taste matches with the Fender signature quality, this will be perfect for you.
This has a broader fretboard more than Yamaha F310, which makes this best for playing any style on guitar.
One of my favourite video on the internet to describe how great this guitar is for playing any style is this one below.
The black variant uses – Mahogany wood, which has a balanced and warmer tone than the spruce variant. If your want a brighter sound go for spruce variant.
If you are ready to invest in a few extra bucks for the best sound quality and experience, this Fender CD 60 guitar is surely the one you would want.
This is more or less the same as the previous guitar, more or less with some comparable differences, the black version, and addition equalizer being the major differences.
This guitar is too a semi-acoustic guitar, but with weight at 2.82 Kg, a little higher than previous.
Then the equalizer on the guitar enables finer adjustments in tones and output to the amplifier. Little adjustments on sound, but it helps if you are interested in it. (not bigger deal though)
Specifications:
Semi-Acoustic Guitar (With Equalizer and Pickup)
Fretboard material: Rosewood,
6 String guitar
Extras – 1 pack of Strings, bag, strap, and picks
It's priced at an amazing price deal and is a good wishlist in buying the best guitars for beginners India.
This is next acoustic guitar from Fender which features an upgrade in build to the previous Fender CD-60.
With a dreadnought body, it comes with laminated solid top and neck, Rosewood fretboard and bridge. Solid wood utilises solid sheets of wood, which makes it little expensive, but great in build quality.

It resonates very good and with time you will get better sounds.
Acoustic Guitar Buying Guide
Whenever you are buying a guitar, the most important question that you must be asking first is not the price. Its the guitar specifications.
If you don't get the guitar of the right specification you will never find it interesting to play it.
Here are the few factors that I suggest you look at:
Shape/Structure of Guitar
Action – Height of Strings
Sound quality
Price Range
Connectivity with the Guitar
If you want to read the complete overview on how to choose the best guitar in a price bracket, do read our complete guitar buying guide here.
In short, here is a video that explains everything in detail.
Also buying an extra pair of guitar strings is going to help you the most. Read out article on buying acoustic guitar strings.
Conclusion
Now I hope you are after reading this article you would have come to a conclusion to the best acoustic guitar to buy.
If you are still in doubt, you may comment below and we are more than happy to resolve them. At least I am very happy to see that you have opted to learn guitars.
You have a great future ahead, keep playing!
Play the string!