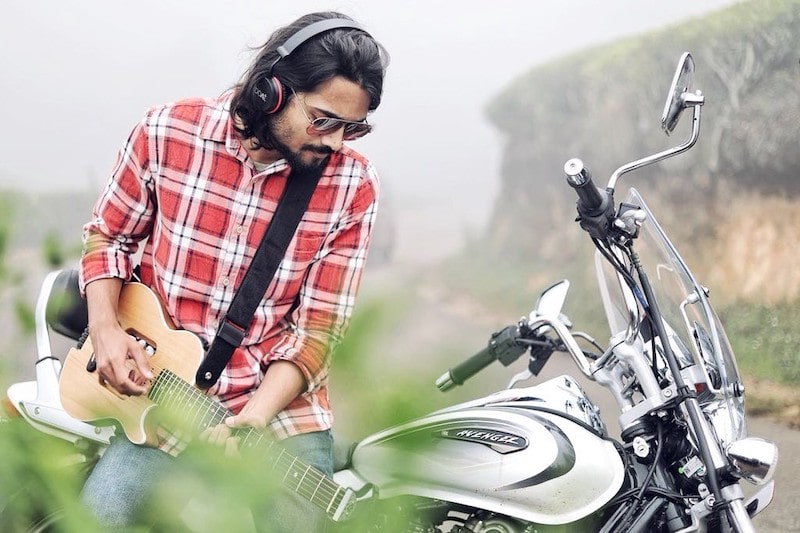 Planning to purchase the Best guitars for beginners in India for 2021?
You must be buying for the very first time. Learning the guitar as well as trying to buy a good one, both put the users in this dilemma.
It's very much recommended that you buy a good guitar in the first place that would last longer and be worth the money.
Whether you are going to buy with a budget-friendly amount or value for money, we have listed the best guitars in India in comparison to price and quality.
Basic Classification of Guitars
Before we get into the best guitars in India for beginners, You must understand that guitars have a wide range of classifications.
What are the different types of guitars? How much should you actually spend? Should you buy second-hand? What's the general size of the guitars? What wood finish is the best for guitars?
Unless you are truly interested in reading the detailed article on different types of guitars in the market, we will explain it in short.
There are mainly 3 types of guitars –
Classical guitar with nylon strings
As a beginner what you will need is a steel-string acoustic guitar. Those are the same guitars that you see most of the people playing. They are very fit for playing classical music with fine soft tones.
Comparing the nylon string & steel string guitars, acoustic guitars with steel strings produce better sounds and priced reasonably low.
For a beginner, playability should be more important than sound.
Nylon string guitars have soft strings, comfortable for beginners but would rather make you bored of its sound on long usage. Its price is also a little higher compared to the steel-string guitar.
Acoustic guitars are simple, easy to use, and have all you need to get started. You don't have to worry about plugging into anything. Those are the ones we recommend you begin with.
Did you know, Guitarists are more likely to be successful if they start on acoustic guitar. They are simple quick and easy to use.
You must NOT go for the electric guitars unless you know how it sounds & what music you really want to play for. Though they are lighter and far more comfortable than acoustic guitars, the main difference is that their output sound can be amplified.
Beginners Guitar Buying Guide
1. Structure & Size of the Guitar
This basically refers to the size of the guitar- full-sized, medium-sized, or small-sized.
Depending on the shape of the guitar i.e. guitar wood body shape, they are further called by different names. As for a beginner, this really isn't a concern to take in.

2. Action of Guitars
Action refers to the height of the strings from the fretboard. This is one of the important factors you will need to consider for buying the best guitars in India specially for beginners.
More the action/height from the strings, the more the pressure you need to apply for playing the strings.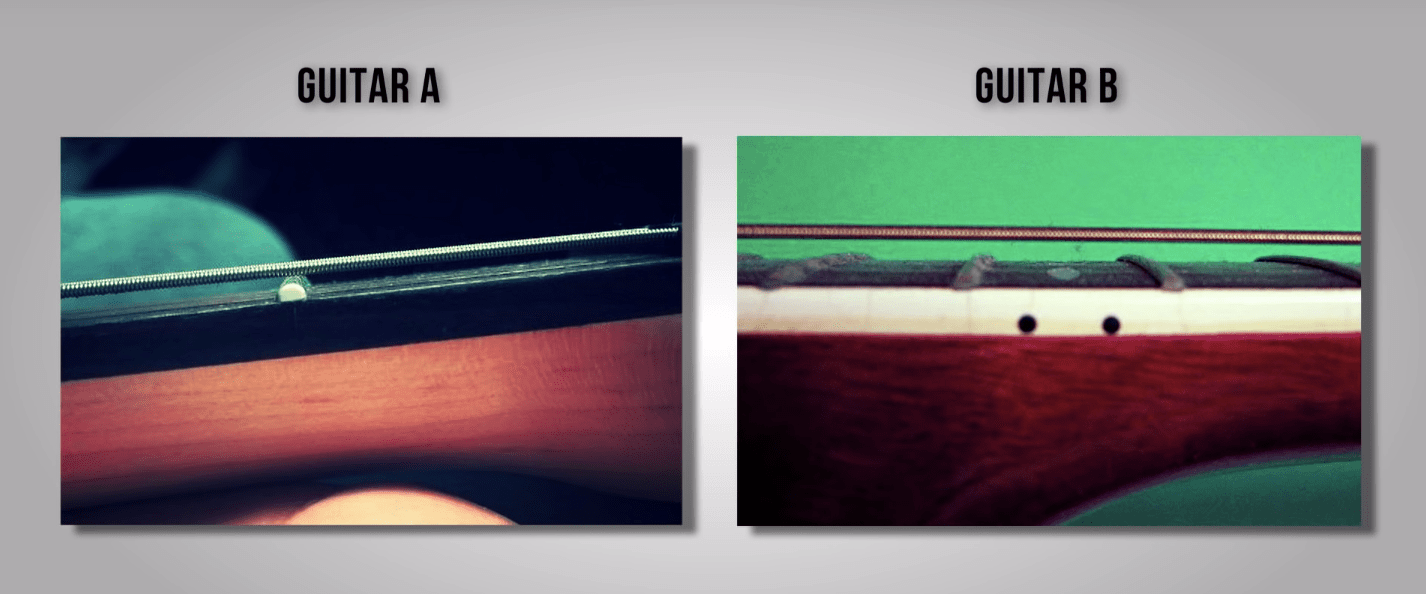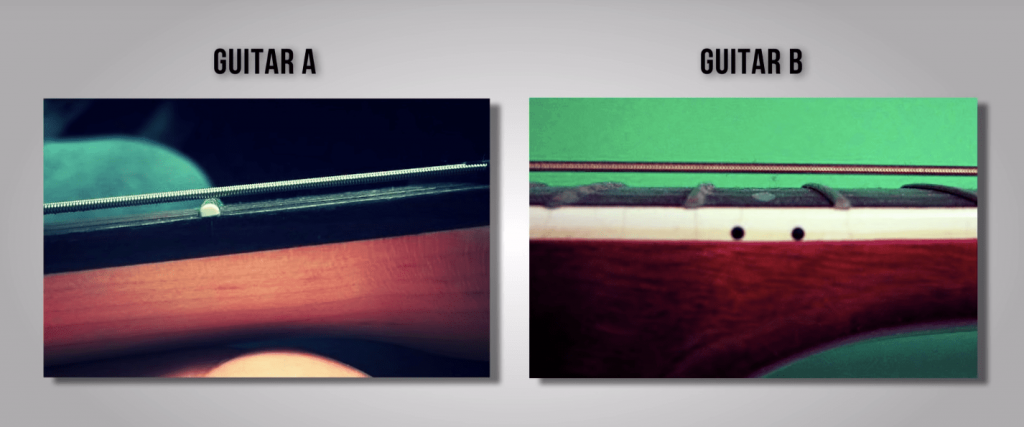 The guitar's instrumental sound is produced when the strings vibrate and hit the fretboard. The action of the guitar should be not too high or too low, but a minimum height for better playability.
Though there are ways to change the action manually, it's better to get the right one in the first place.
3. Strings Quality
Definitely, your guitar is going to play the best when your strings are perfect. Thin strings are easiest for a complete beginner.
But to prevent it frequently from breaking, get an extra good pair of strings from preferably D'Addario or go for a good guitar with one.
4. Comfortability & Playability
To play guitar really well, it requires the person playing to be in a comfortable position in terms of the posture he holds the guitar, and how he plays it.
To find a perfect sized guitar for you & supposing you are more interested in going for the full-sized one, You must have a take on a guitar from your friends or local store.
This will ensure your comfort and if you are okay with buying it.
Let's go right into the real part. Finding the best guitar for you from the best guitar brands in India.
This video pretty much sums up the checklist to consider.
Beginners Guitar Price in India
Depending on your budget you must be spending your money accordingly for the guitar. The more your budget is, the better the sound would be.
There are guitars staring at cheap rates of Rs.2000 and Rs.3000. However, we suggest that you at-least invest Rs.4000 for a decent good guitar best for you.
It's understandable that if you want a cheap guitar just to play for not-so-long. But the truth is that there are decent affordable guitars suited for starters that will cost you only a little above what a cheap one's costs.
Note: Buying a cheap guitar can easily degrade your instrument learning and also, they really don't sound that well. You just need to spend a few more to get the perfect beginner friendly ones.
Really Cheap Guitar for Beginners
These are some of the cheapest guitars in the Indian market which we recommend, in case you are short on budget for like Rs.1500-Rs.2000.
We can confirm that these would sound mostly the same as the other guitars, However, keep caution that these low-cost guitars do not come with truss rods.
If you want your guitars to last long and be able to adjust the strings to a better extent – consider raising your budget.
TLDR; If your investment is around ~5k, Just go into buying the Guitar listed below this instead of Ukulele.
Ukulele vs Guitar: What to pick?
Ukulele comes from the same string instruments as the guitar, but it's a little smaller in size compared to the standard guitar. Guitars have 6 strings while Ukulele has only 4.
Let's break it down more.
Ukuleles can play higher, cheerful tones very well. They aren't capable of playing all styles of music, However, it does give an extra learning push for beginners.
The options of good guitars at a rate close to this price are very few. Hence ukulele was designed for portability and newcomers to guitars.
To pick the right Ukulele for you, read our Ukulele buying guide.
Just like a few of the people prefer starting with the ukulele, this was the best recommendation we have. This is readily small sized – 23″ small and easy to hold.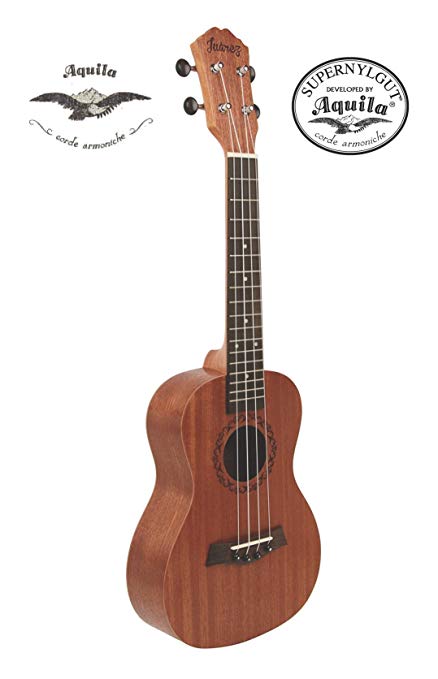 Specifications:
Body: Rosewood fingerboard wooden finish
String type: Nylon type classic – 4 stings
Features 18 frets
Apart from the good quality build of this ukulele, it's more notable that it has limited tuning from A-G chord.
Pros:
Small sized 23″ & easy to carry
Mostly ideal for folk, country, and related genre music
Ukulele Gig Bag and 2 Picks Included
Very easy tuning
Cons:
Limited tunes from A-G string chords
Mostly used by just beginners and kids
Instead of buying a guitar to your child, buying a Ukulele is the best choice. It's small and easy to master playing.
Juarez is one of the best guitar brands in India that sells affordable good quality guitars. In India, they are one of the most bought sellers of Guitars.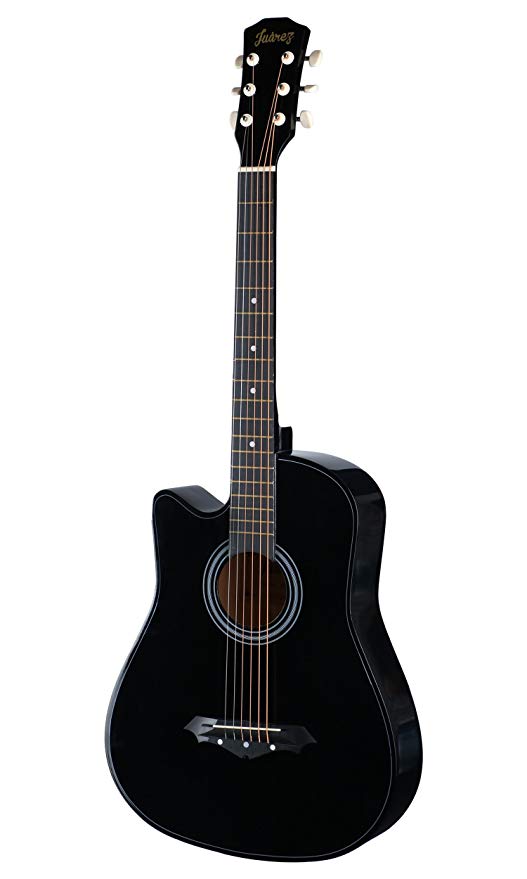 At this budget price, they offer the value for money for this guitar kit.
Specifications:
Body: Ebony wood & Fingerboard: Linden wood construction
38 inches sized (2.72 Kg weighed)
Great looks and innovative design
Features 18 frets & 6 steel strings
Cutaway designed to easily reach & play all frets
This acoustic guitar is suitable for playing any genre of music as likely as any other guitars in the market. Certainly, the best if you aren't going to spend too much on your first guitar.
Pros:
Cutaway at the fretboard can help you hold and play guitar better
Great wood finish construction
Buying options included for both left and right-handed users. (buy carefully)
Cons:
Action is a little high
Long-lasting of the product isn't much guaranteed. (Better to invest a little higher)
This Juarez JRZ38C acoustic guitar is sold separately for both left-handed and right-handed users.
At this next budget price, Intern INT-38C acoustic guitar offers a guitar kit with a lighter weighing guitar.
Specifications:
38 inched sized (2.1 Kg weighed)
Features 18 frets & 6 steel strings
Great looks with cutaways for easily reaching all frets
Body: Ebony wood & Fingerboard: Linden wood construction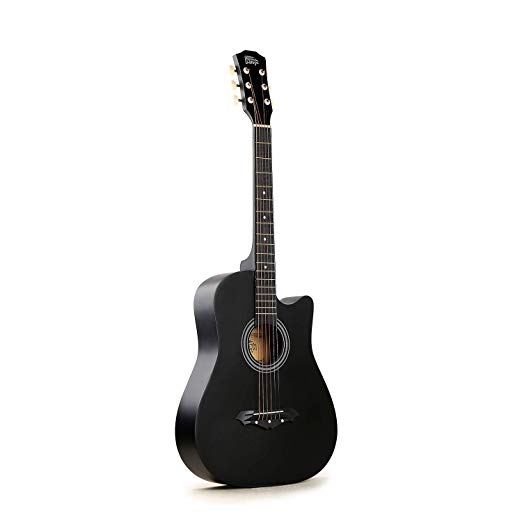 Pros:
Lightweight guitar weighing just 2.1Kg
Low action for better playability
Good quality board finish
Cons:
Long-lasting isn't guaranteed. (Better to invest a little higher)
Ukuleles have spot-on sound. Neither less, they look just like a guitar. The beauty of ukuleles is its small form factor and is best for not-so-serious guitarists.
However, the best acoustic guitar you can find in India is only from the best guitar itself, not the ukulele.
Best Guitars for Beginners India
Under a price of ₹10,000, These Guitars at the best prices are definitely the ones we recommend you buy.
We start with the Yamaha brand, which is the top-brand in the guitar category. You would have known that this company is one of the leading manufacturers in Music Instruments, and yes It doesn't put out its perfection.
This is one of the most preferred guitars by almost all artists for this budget range. Yamaha is a very popular brand in India that delivers professionals instruments at reliable brand quality.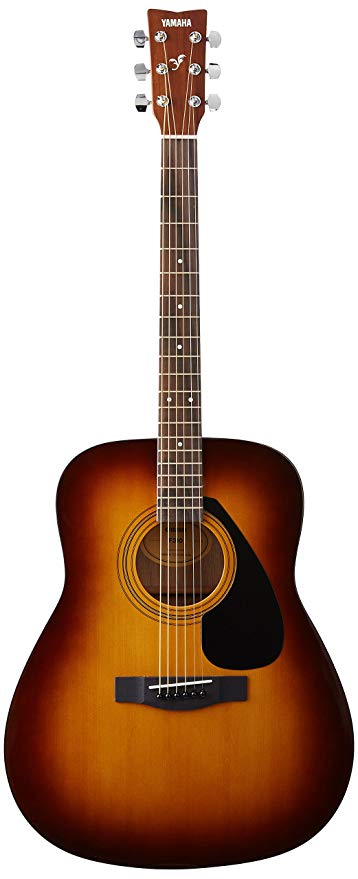 Yamaha F310 is a 6 stringed acoustic guitar, great for playing the music of any genre. For generic pricing, this is definitely the best choice.
Specifications:
Weight: 2.44 Kg
41″ inches size
6 steel-stringed – Rosewood body finish
Dreadnought styled guitar – Acoustic feel
Features bolder & richer tones
Pros:
Powerful sound and strong bass.
Top-quality wooden & body finish
If you are looking for the value of money, it's worth buy.
This guitar is the best selling product on Amazon all-time and has got ratings more than any guitars available in the market.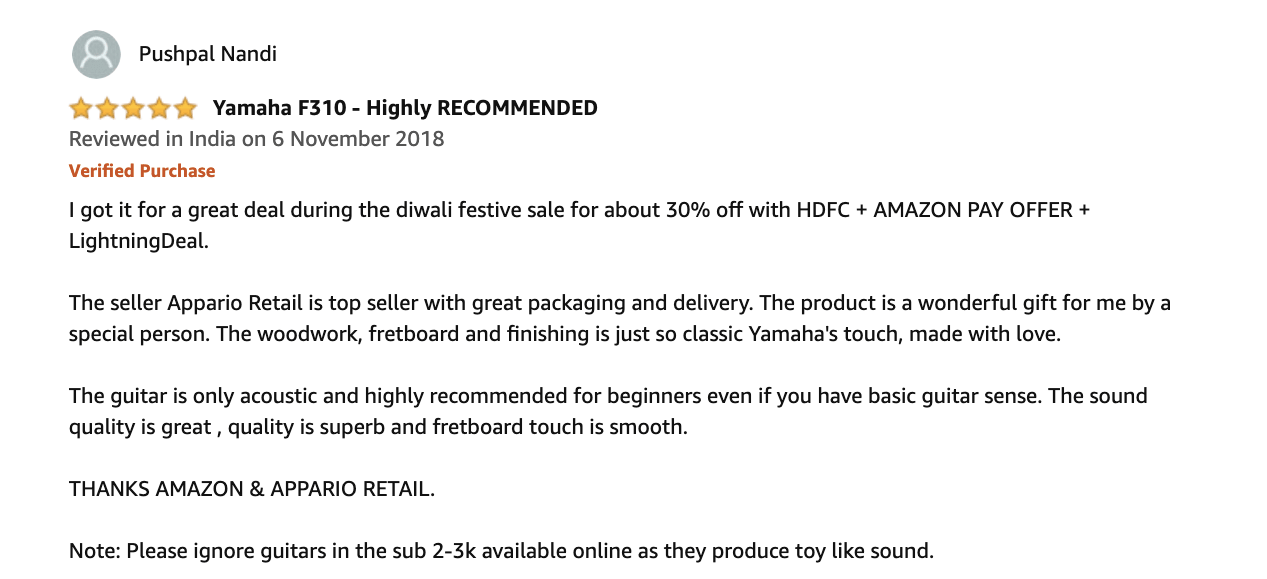 Additionally, there is the same guitar as the previous of the same type of dreadnought body. More importantly, this guitar features a little less weight of 2.4 Kg and Tonewood's finished color.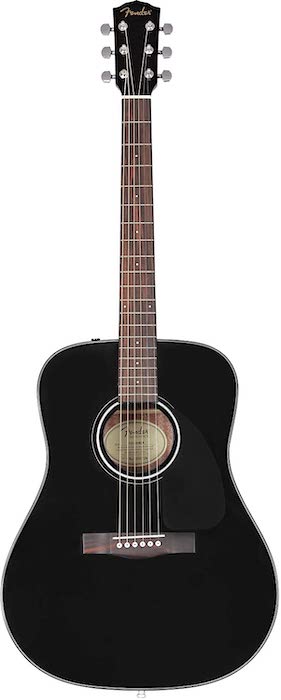 Fender, which is one of the top international guitar manufacturers, has one of the best fingerstyle guitars of all time.
This Fender CD 60 is a full-size dreadnought guitar, with great spacing between its 20 frets.
This makes it very easy to play the chords.
The action of the guitar is perfect, sounds very well balanced, and gives bright and clean resonating sounds.
Features
Body: Mahogany & Spruce wood, Weight: 4.54 kg, 6 steel strings
Dreadnought styled guitar – Acoustic feel
Well balanced & bright sounds
Best for fingerstyle playback
Fender guitars generally have wider fretboard compared to Yamaha.
For which, You can prefer this guitar over Yamaha F310 for the larger string spacing, special advantage if you have thumbs are a little bigger.
This is well perfect for the price that even for a beginner/intermediate guitarist, this could be a good long-term investment.
Great sound quality and smooth fretboard with the focus on quality, design, as any Fender brand guitars.
As for a beginner/intermediate player looking for the best guitars for beginners in India, the guitar I suggest everyone is from Yamaha is the Yamaha F280.
This version is much identical to its previous F310. It's made especially for fingerstyle players, and also for those who have comparably larger fingers.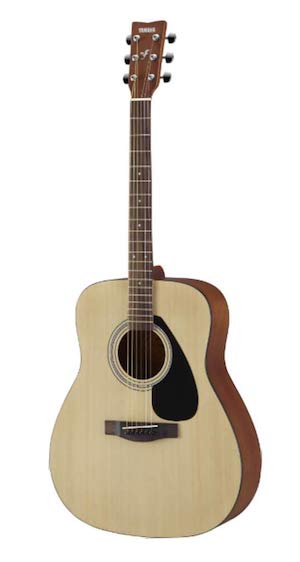 Specification
Full-sized – 40.5-inch guitar
Material: Rosewood fingerboard, Gloss Top
Weight: 2.8 Kg
Pros
Best for fingerstyle players – Good string spacing
Bright Sounds, Good tone quality
Made in India
The sound quality is bright and is deep sound. The action level is good.
The build quality is great as expected from a Yamaha guitar.
To this budget price, the quality of tone and finish by the brand is always impressive. I recommend this as a good choice for a beginner and intermediate.
Another option you could look for in the best Guitars for Beginners India is the Kadence frontier series guitars. The frontier series is Kadence's budget series.
This Kadence 41″ guitar is semi-acoustic, which features an additional capability to amplify the audio and tweak the tunes to finer adjustments.
Specifications:
41 inches size
Body: Spruce wood Fretboard: Rosewood finish
Packaging includes 1 pack of Strings, picks, tuner, foldable guitar stand, bag, strap, and capo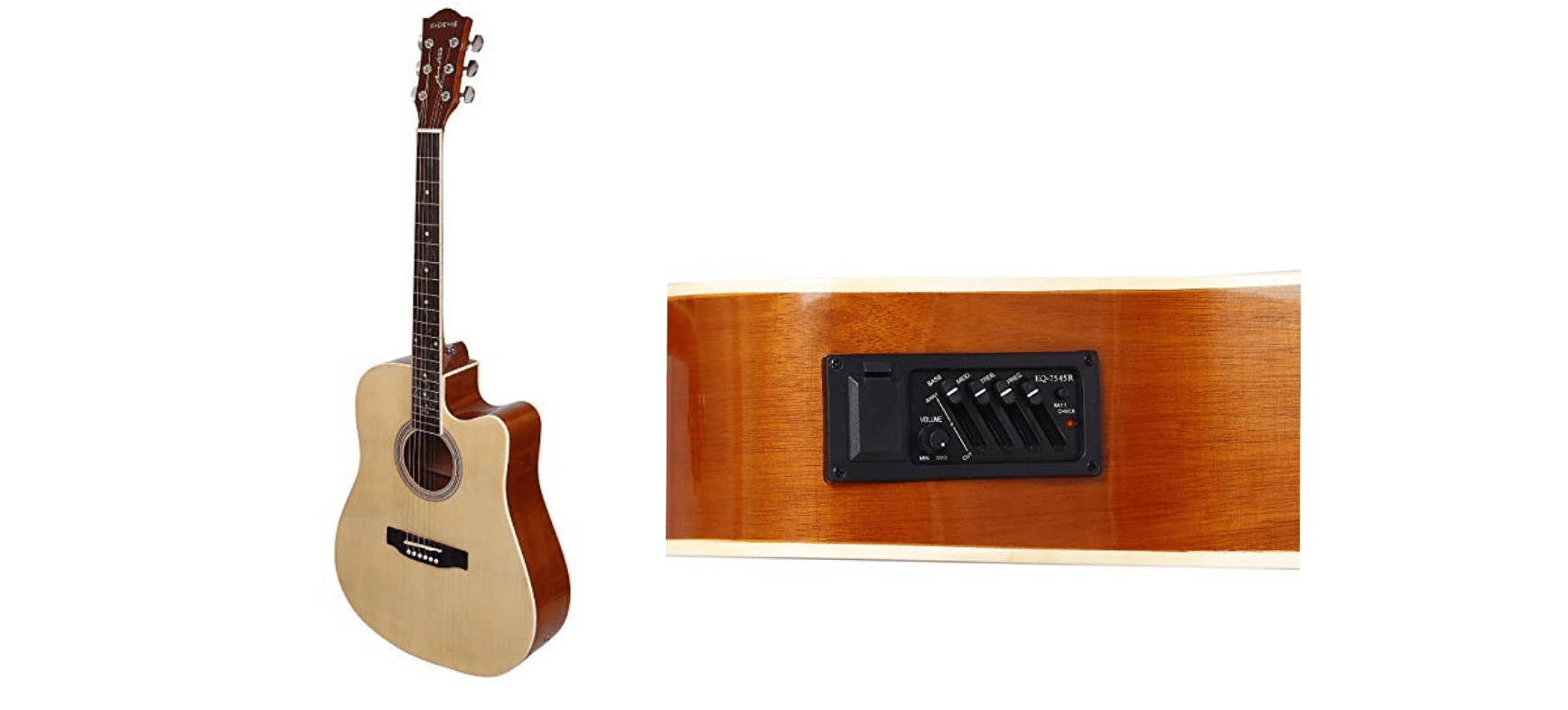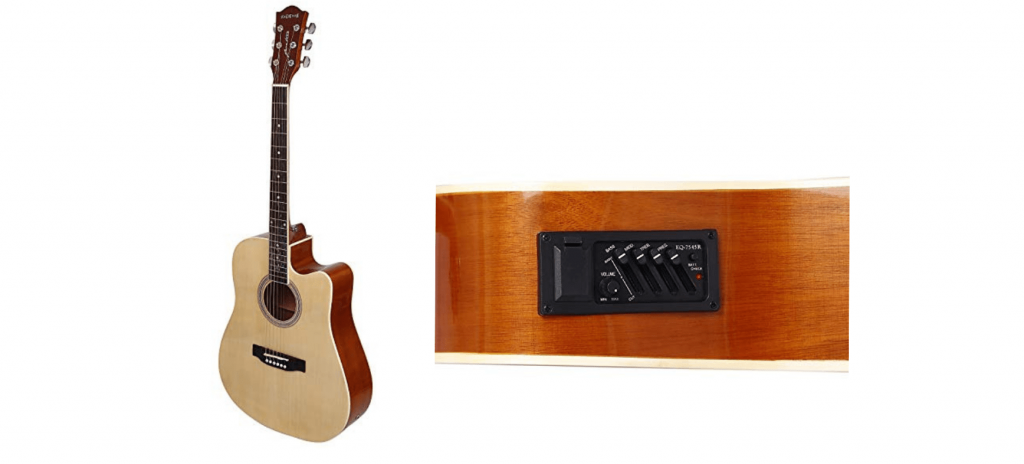 Pros:
Great sound quality
Features connectivity to speaker output
Easily tune sounds using the equalizer and also amplify
Cutaway present for reaching all frets chords
Cons:
It's priced at an amazing deal, also to be considered while buying the best guitars for beginners in India.
This Ibanez guitar is the most preferred guitar by our website visitors. Not just for the international brand value, but also for the perfection in guitars Ibanez manufactures.
This is the only acoustic guitar Ibanez sells for 6K price, comparing to others guitars which start from 15K+. This is to make small budget consumers experience their brand quality.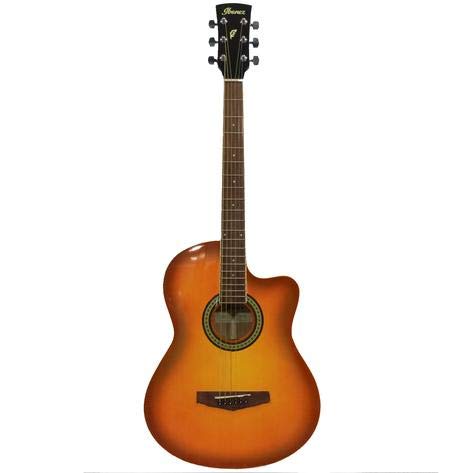 This Ibanez MD39C-NT is a 39″ guitar, not too big or not too small. The action is just right out of the box, very easy to play without needing any external adjustments.
If you are not in the budget to buy Yamaha F310 at a little higher price, this would personally be my next option.
Specifications:
Weight: 2.76 Kg, Size: 39 inches
20 Frets, Top – Spruce Back & Sides – Nato
Spruce Wood's body has great quality.
Pros:
Cutaway present, easy for beginners to hold
This is by far one option for Ibanez quality lovers, one best guitar for beginners.
This is another best Kadence semi-acoustic guitar priced in the range. As a semi-acoustic guitar, Yes this too features an equalizer and pickup.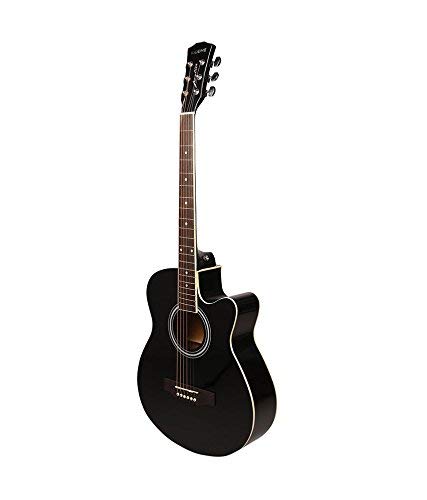 Specifications:
6 Steel strings
Fretboard: Rosewood Body: Spruce Wood
Pros:
Includes Equalizer and Pickup
Good build quality and appearance
Comfortable playing while sitting or standing
Kit includes Bag, Strap, Strings And 3 Picks
Conclusion
That brings an end to our detailed buying guide. While considering buying a new guitar, make you consider the basic factors really well – Price, Comfortability & Brand.
We mentioned the best guitars for beginners in India for a good nominal range from the cheapest of Rs.1900 to a good rate of Rs.8000.
Like we mentioned, a smaller cheap budget can only short-term fulfill your happiness & playing span, for which we don't recommend you.
At last when you are buying the guitar, make sure you receive the product in a good condition, else request for a replacement. Amazon is good in those terms.
It's time to rock ON!