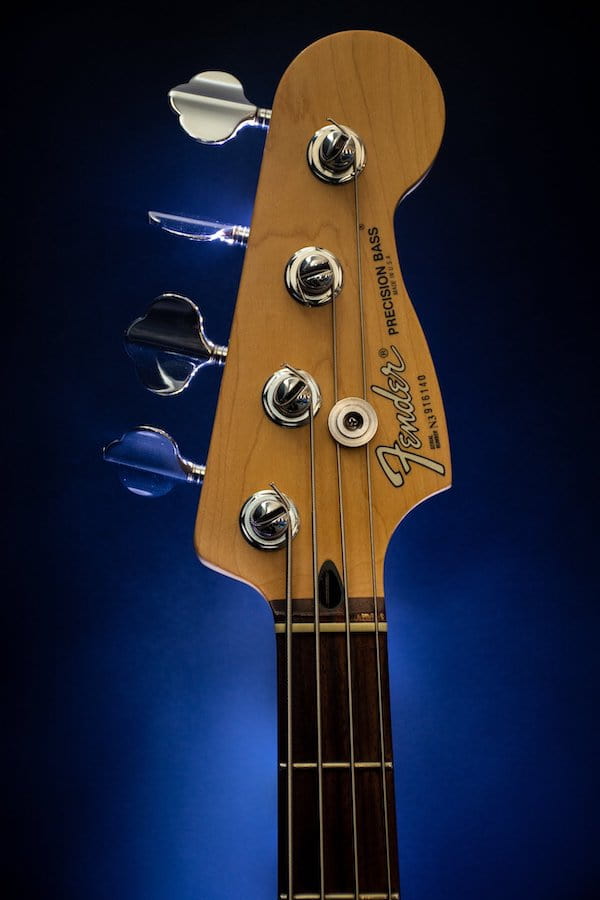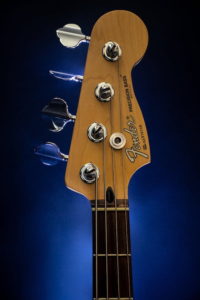 The first and foremost step before playing any guitar is tuning it. Which is the best guitar tuner in India for that?
This is very essential if you are a beginner guitar player on any acoustic or electric guitar.
Tuning the guitar to the right tone ensures that you will be getting the perfectly right chord sounds.
Don't get too confused. It's a very simple process.
It's just like fueling the vehicle before taking for a ride. That's simple as it is.
There are two methods to tune a guitar:
The easy way – online guitar tuners or offline tuner mobile app.
Buy a handy guitar tuner available at very cheap prices.
Honestly, A handy guitar tuner has an advantage mainly for people who are just starting to learn toa play guitar.
This is because, when the guitar tuner is clipped onto the guitar, it helps them to easily learn and understand if they are playing the right chord.
Guitar Tuner Mobile App
Carrying your mobile phone everywhere is the easiest way to tune your guitar. It saves money and is pretty convenient.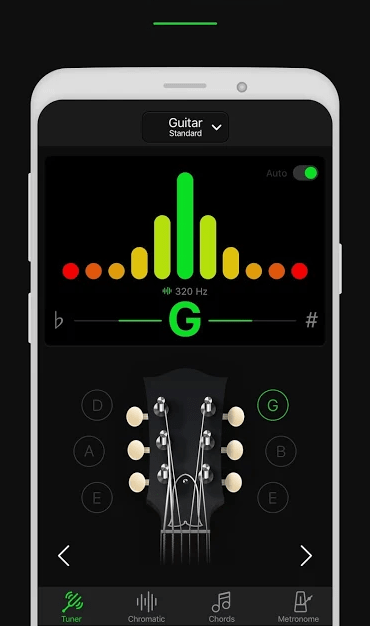 Here are the two guitar tuner apps I personally recommend:
GuitarTuna App – https://play.google.com/store/apps/details?id=com.ovelin.guitartuna
Guitar Tuner – https://play.google.com/store/apps/details?id=ru.ee
Just open the tuner app, and start playing your chords.
You will see the app detecting the chords. Tighten or loosen your strings to tune it accordingly.
Free Online Guitar Tuners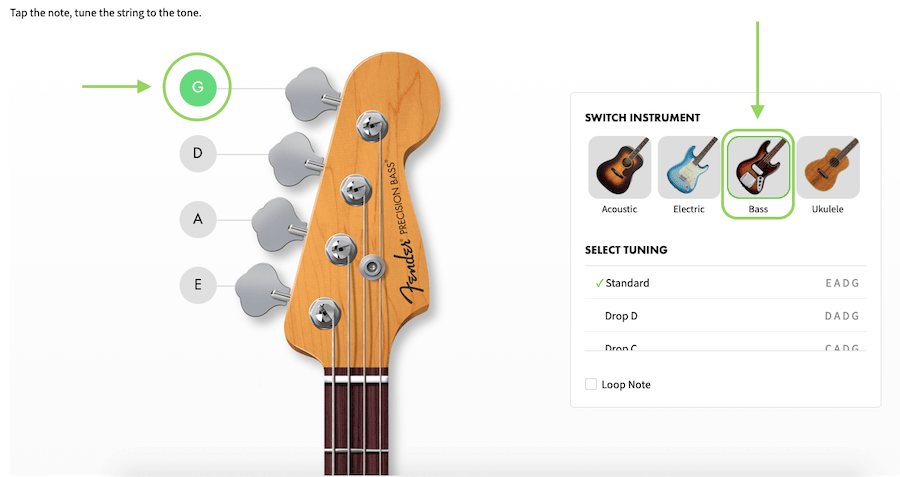 Tuner Online and Fender Tuner are the two online guitar tuners I recommend.
It's the same steps. Choose your guitar type – bass, acoustic, electric, or ukulele and tune it accordingly.
If you want a detailed step-by-step idea on how to tune a guitar, read this – Steps to tune a guitar.
Guitar Tuner Price in India
The basic guitar tuner pricing in India is from Rs. 300 to Rs. 1500.
The difference in the guitar tuners is just the extra features like tuning other instruments like violin & ukulele.
If you are curious how it works, The turner first picks up the sound by vibration when clipped on your guitar. This frequency range is a particular chord tone according to
guitar strings
.
I personally don't feel the need to invest more than Rs.600 for a tuner.
Best Guitar Tuner in India 2022
This planet waves guitar tuner is a little expensive, but for the good provides the most accurate reading and quick chord readings.
The tuner works perfectly well on acoustic guitar, electric guitar, ukulele, etc, and even handles bass guitar when clipped on the guitar.
It's little on the expensive side and must buy only if you are willing to invest. You won't find a difference when compared to the guitar tuner app.
Features
Build: Plastic, Weight: 40.8 g
Runs using CR2 battery only
Fast & Accurate reading
Clamps on, Looks really good
It has a clear and bright LCD screen. Made up of plastic of good quality, and also looks great when clipped-on the guitar.
It is simple to use, just turn on and tune. This runs on 1 CR2 battery.
Despite being available at a higher price, this definitely gives the best results and is well recommended.
This Juarez is one the best guitar tuner in India, for both cheap price and accurate readings.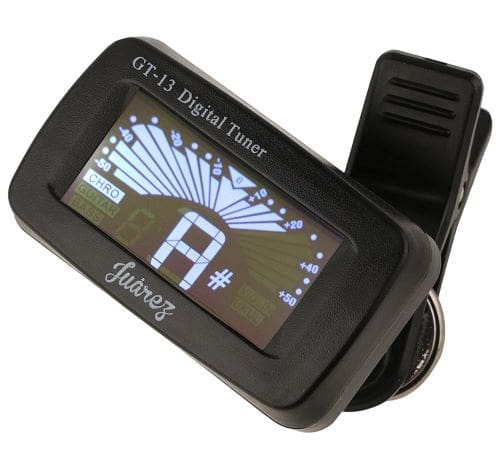 It's a chromatic tuner and even supports other instruments like bass guitar, violin and ukulele.
It has a backlit LCD, guitar clip-on and requires 1 CR2 battery to work.
One great advantage is that this tuner is from the Juarez guitar manufacturer company itself.
Features
Build: Plastic, Weight: 40.8 g
Operates on 1 CR2 battery (Included)
Very accurate, Cheapest Tuner
This has to be the next best accurate guitar tuner on this list. This tuner is a perfect value if you are looking for cheap & accurate tuners.
If you feel your mobile phone microphone quilty is not that good, then this guitar tuner will be the best alternative.
Musedo tuner supports multiple instruments – Guitar Bass, Ukulele (2 tunings), and it also has a chromatic mode (means it supports 2 or more consecutive notes).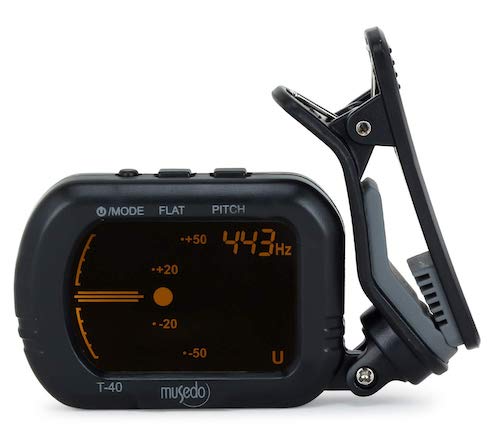 It has a very good grip and is robust on the guitar. Its digital display is also the one that looks professional.
Features
Build: Plastic, Weight: 49.9 g
Operates on 1 CR2 battery
Excellent build, Highly accurate
Definitely the best guitar tuner in India I would suggest buying.
Another best guitar tuner in India is the Gadgets Hero clip-on tuner. This comes for the cheapest price range in the market.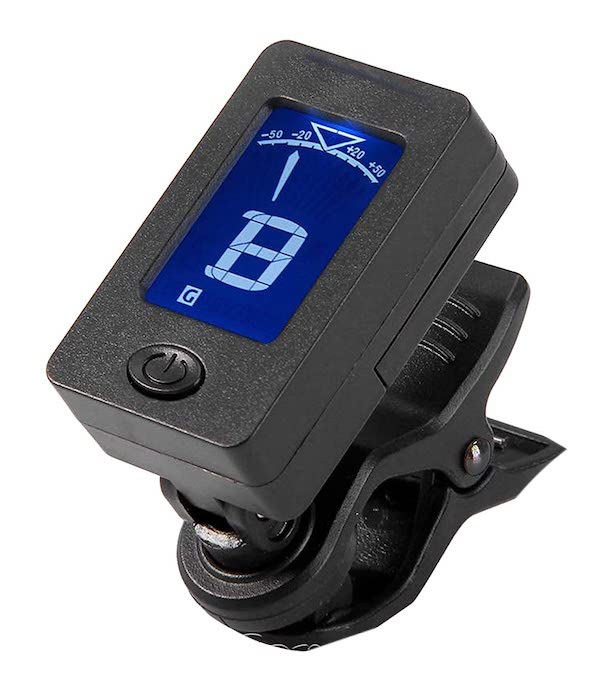 Tuning works for all guitars – acoustic, electric guitars, Violin, Ukulele, and bass guitars too.
Features:
Build: Plastic, Weight: 40.8 g
Low cost, robust & tight
Battery operated
This is overall a great product for the price, which will easily help tune guitars under a minute.
A product you can consider while buying for beginners and advanced players.
This is another guitar tuner at this price by Pandawill. Just like the Musedo, this also supports chromatic, guitar, bass, violin, ukuleles instruments.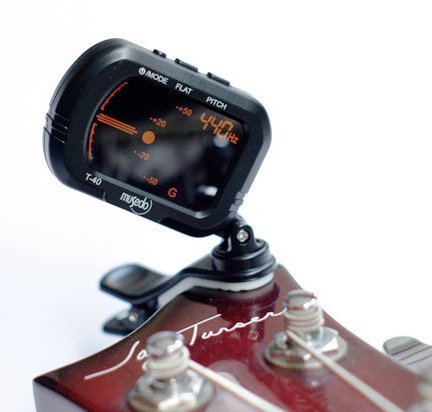 If your guitar is completely out of tune then it is going to be tricky for novices. But with constant practice, you will definitely get this right.
This is also great for the price and is a considerable tuner on the list.
Kadence provides a starters-kit combo with many guitar accessories like – Guitar picks, tuner, picks holder, extra strings and a capo.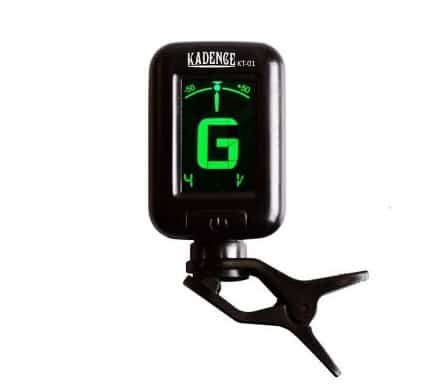 This is good and helpful for beginners who would require these while exploring the guitar styles.
The tuner provided with this is a chromatic tuner that too works with other instruments.
The strings provided with this is not of good quality, however the rest of the accessories are decently good.
If you want to save some money and get guitar accessories, this is a considerable option.
This amiciSound digital guitar tuner works for Guitar, Chromatic, Bass, Violin, Ukulele instruments.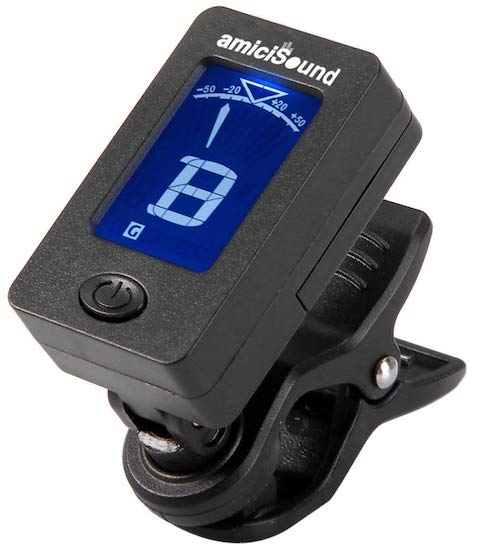 Made of plastic, and at lowest price on Amazon.
It's lightweight at 18.1g and helps ease tuning of guitars.
It's very low-priced, so the long-lasting of this product is never guaranteed.
It does work accordingly as it's supposed to do.
How to Tune a Guitar?
The first and foremost step in tuning a guitar is to keep the tuner right in hand along side guitar.
One thing to make sure is that, if you are using an guitar tuner device, then you will need to clamp on to the guitar. This is because the guitar tuner only works by feeling guitar vibrations.e.
Turn on the Guitar Tuner device/app
Keep your fingers on the string pegs/tightener.
For the left pegs, Keep in mind Tuning up means anti-clockwise rotation, and Tuning down means clockwise rotation.
For the right pegs, its the opposite. Tuning up means clockwise rotation, and Tuning down means anti- clockwise rotation.
Keep playing each of your strings on the guitar and the corresponding chord would be detected in the tuner/app.
Repeat the process until you set the right chord sounds for each guitar strings.
Here is a video tutorial on how to tune your guitar.
If this sounds boring at the first time, don't worry. You will get used to this very easily and will improve over time.
Guitar strings usually get out of tune very easily in about 1-2 weeks, depending also on how often you play them.
Most of the guitarists can tune their guitars in less than a minute. It's not so difficult to be honest.
Conclusion
Learning the guitar is equally important as learning to tune the guitar. It's all possible by practice.
After buying the guitar tuner and by constant tuning practice, later on, you should be able to tune the guitar just by hearing it.
I hope you keep chasing your love for the guitar. Keep following us.
Go, tune it!