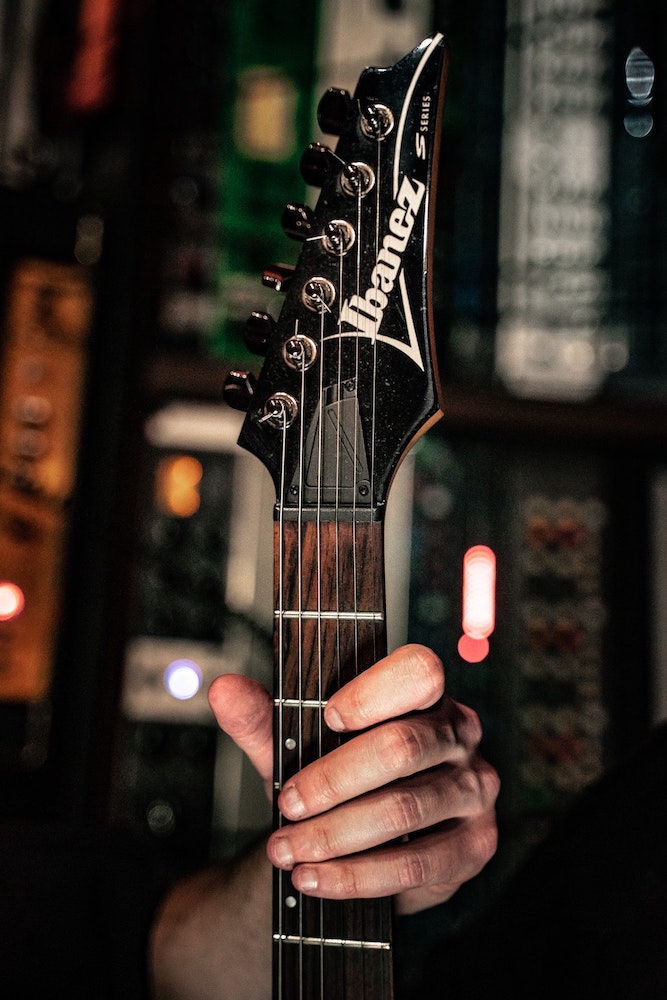 How do you choose the best guitar strings, and how much is the guitar strings price in India?
There are a few technical things to look into while buying guitar strings for your guitar.
Obviously, it needs to work on your guitar right?
Buying an extra pair of guitar strings is mandatory, especially if you had just bought a new guitar.
To help you choose the right one, We do recommend reading the buying guide below.
Guitar Strings Price in India
The guitar strings price in India is from Rs. 200 – Rs. 600. This price range remains the same for both acoustic and electric guitars.
D'Addario guitar strings are one of the best and top sellers. They produce great industry-standard quality and they sell in this category of guitar strings exclusively.
We won't recommend buying cheap local brands guitars, because this investment is what gives your guitar the best sound signature.
Best Guitar Strings for Acoustic Guitars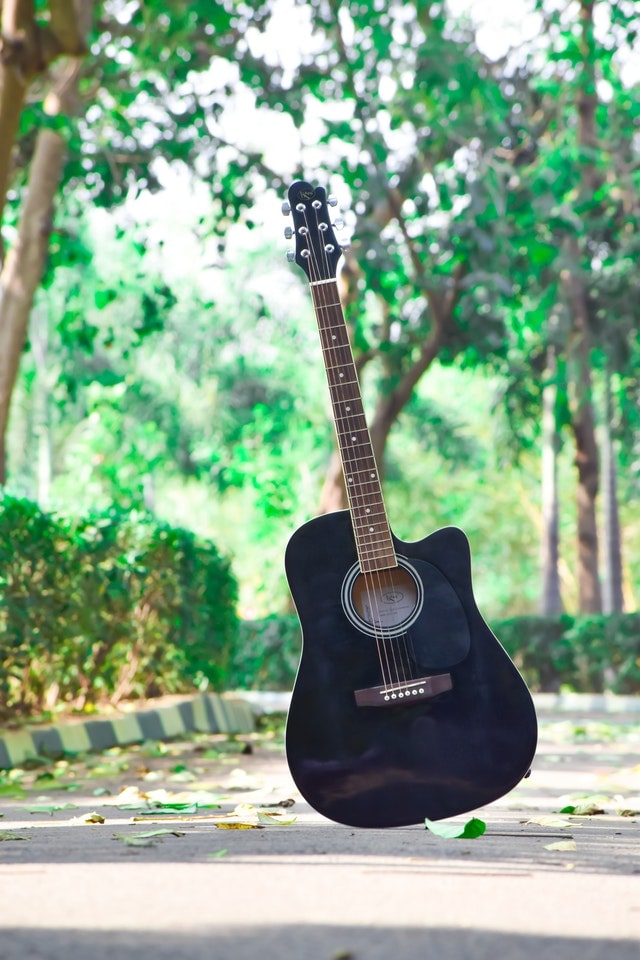 We have listed below the best set of guitar string for acoustic guitars.
Depending upon the your playing styling and guitar truss rod, choose your strings.
All of the packs come 6 different strings as named in guitar strings.
Guitars Without Truss Rods
A few of the guitars in the low budget range under 5k do not come with truss rod.
Due to this its advisable to use only extra light & custom light gauge strings to prevent bending of neck.
Strings for Strumming
Strings for Fingerstyle/Solos
How to change Acoustic Guitar Strings
One of the easiest thing in guitars is changing the guitar strings.😛 First few times will be tricky. But eventually with practise it will easily get done under 3 minutes.
Also, make sure to tune the guitars so that they sound perfectly to the tone.
Best Guitar Strings for Electric Guitars
Guitar Strings Buying Guide
If you like to get the quick brief as a video, here is a video on the same by Adit Kundra, who is one of the top mentors for passionate guitar learners.
His guitar lessons are one such gem we absolutely recommend you try.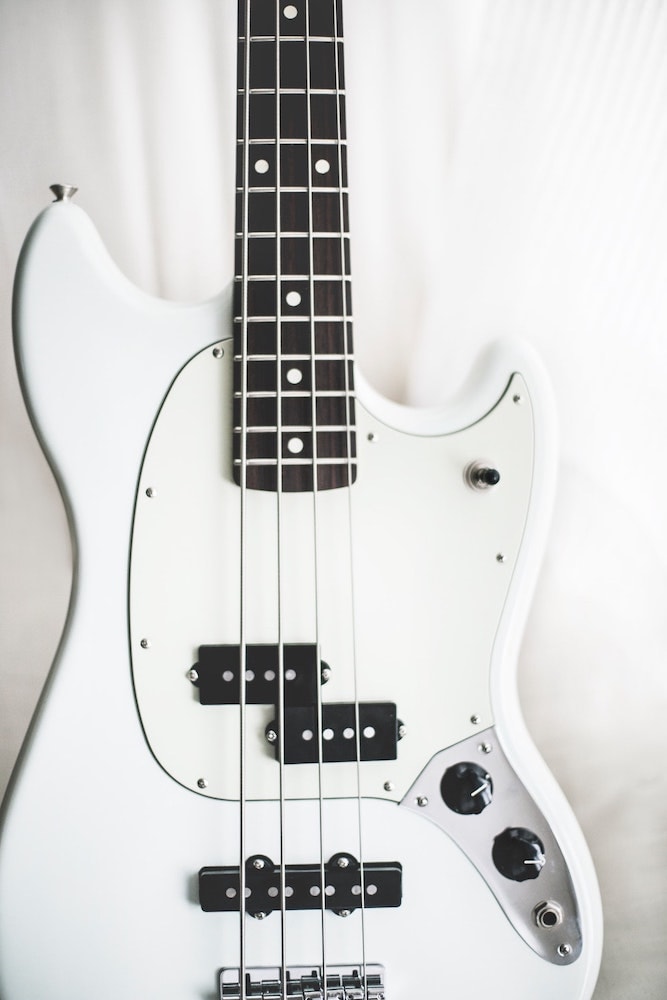 Let's first be clear with the fact what makes acoustic and electric guitar strings different.
In general, acoustic guitar strings are thicker and produce a warmer sound.
Electric guitar strings are thinner and produce less volume and a lighter and bright sound.
Whether you are into buying string for acoustic or electric guitars, most of the factors remain the same except the material and playing styles.
1. String Gauge
String gauge is the term used to define the string thickness.
They come in ranges of 0.009 – 0.057 inches. If the strings pack specifies this string gauge, it means the lowest or the first string thickness is 0.009 and 0.045 for the last string.

It's not normally that you get to remember these string thickness values or at least talk with the shopkeeper to purchase with these measurements.
Guitar Strings Gauge Measurements
The strings packs are given names – Extra Light, Light, Custom Light, Medium, Heavy Gauge to make it a convenient pick.
We normally call it with the lowest gauge name like for 0.010 – 10 gauge string.
Extra Light – 10 gauge
Custom Light – 11 gauge
Light – 12 gauge
Medium – 13 gauge
Heavy – 14 gauge
Light gauge strings have brighter sounds while Heavy gauge strings have warm sounds.
For a beginner guitar player, light gauge strings are the best. For Intermediates and experts, you can get any strings and taste the styles.
I would suggest heavy gauge strings for heavy strummers or rhythmic players. If you do solos or fingerstyle, light gauges will the best.
Most guitarists love to experiment with different gauges of strings which I too recommend when you are at an intermediate level.
2. Guitar Truss rod
If you have a guitar without a truss rod (like Intern or Juarez guitars), then the below instructions should be necessarily taken into consideration.
Guitars without truss rod when equipped and played with heavy gauge strings can create tension on the bridge and neck. This ultimately bends the guitar neck and damages your guitar.
I would safely advise you to use only light strings for these types of guitars. This however isn't a problem at all for other guitars.
3. Material
The guitar strings come built with 3 types of materials:
Bronze (80% Cu, 20% Zn)
Phosphorous bronze (92% Cu, 8% Sn, with phosphor mix)
Silk and Steel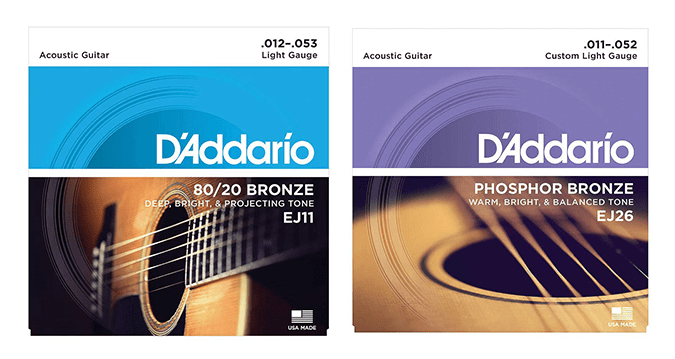 Bronze made strings produce brighter sounds and loud bass. It's good for someone who plays only fingerstyle or strummings.
However, strings made of bronze have the disadvantage of losing the tone quality due to oxidation of copper. Hence the phosphorous bronze made strings were made.
Phosphorous bronze strings have a little mix of phosphorous to prevent losing tone quality with time.
Its mid-range tone is very good, and best for fingerstyle and mixed type players.
Silk & Steel strings have nylon silk coating on the steel strings. They have soft sounds, good for fingerstyle players who play with fingers (not nails).
4. Core & Winding
The core is the innermost part of the guitar string without coating. All modern guitar strings come with a hexagonal-shaped core.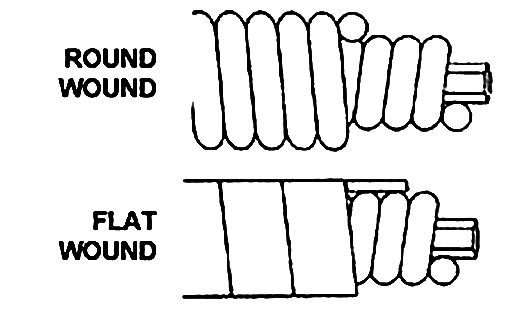 Guitar strings mainly come in two types of windings:
Round wound
Flat wound.
Round wound windings have curved edges, which offers a better grip for fingerstyle players.
Its sound is bright and this type is what people normally use on the guitar.
Flat wounded strings have string edges flat in shape, used mainly for bass guitars. Flat produce warm sounds but are very expensive.
For the normal acoustic guitars, I would say round wound strings are more than enough to get the best sounds.
Conclusion
String of the guitar is the essential key to getting the best sound from it. If you are an avid guitar player, its required to keep it the extra backup.
Buying an extra pair is very reasonable online with guitar strings price on Amazon. You will notice the improvement in tone quality once you start using them.
See the change. Play with the best!