Guitar manufacturers have been producing quite impressive and affordable guitars these days. When it comes to pricing, the cheapest guitar in India is present at an insanely good quality for the price.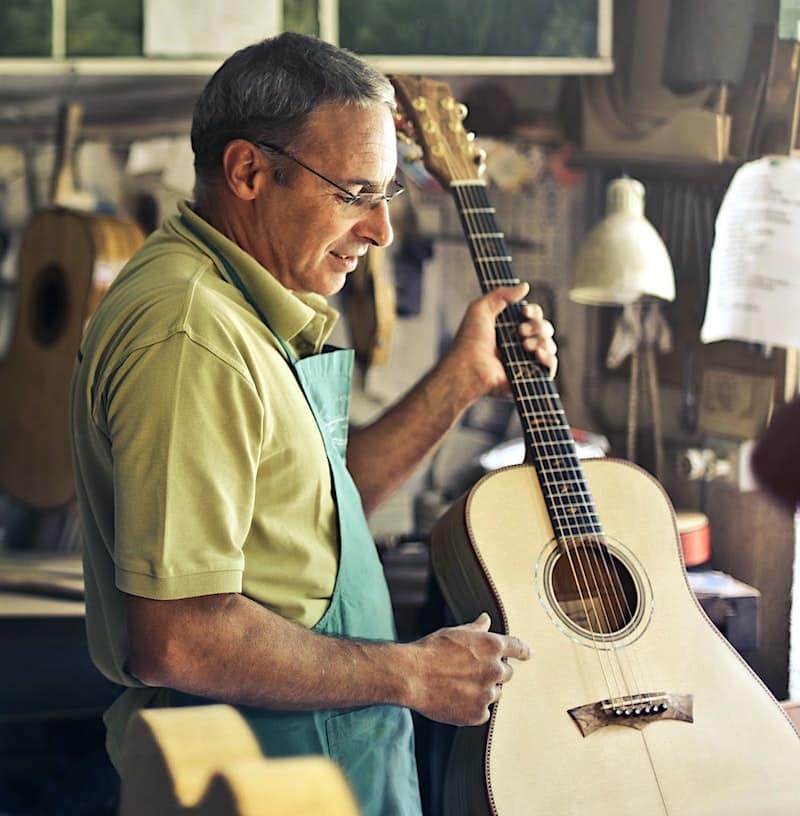 But, Is that cheap guitar good to learn? How well does a cheap guitar sound?
Well, For those are who aren't willing to pay a huge price for guitars, these cheap ones can very well serve their purposes.
Also, if you are just a beginner and want to get any guitars in hand before buying a costly one, it's understandable too.
However, there are many a thing that you might feel is lacking in a cheap guitar and its better to know.
I am confident that after reading this article, you will understand what it's like to use and learn on a really cheap and affordable guitar.
Are Cheap Guitars Worth Buying?
I have always believed in the concept of having good sound in a guitar to start learning,
especially for someone who is trying to master it.
The playability is also an important factor since the first few months on the guitar are always to get comfortable using it, and getting the strumming done right.
For the cheap guitars, the playability is okay for the price. The cutaway design and size of the guitar are very comparable to the other guitars.
The sound on this however doesn't account to perfect learning ability, mainly because the guitar would go out of tune quite often.
Further, NOT LASTINGNESS LONG is major problem with cheap guitars.
It solely depends on how rough and often you use it. This means that you will never be able to focus on learning the guitar alone, rather be more precautious.
All the products are made in China and don't have a guarantee to last long.
If you are someone who can never afford to lose a guitar while learning hard to perfect it, get a good budget beginner's guitar in the price range of 5k-7k, which would easily last 3+ years.
That would be the best investment in your learning.
1. Absence of Truss Rod
The #1 thing absent is a cheap guitar is the truss-rod.
A truss rod is like the backbone of the guitar. It's basically a thin sheet of the metal shaft that runs along the length of the guitar.
It holds the fretboard right in position so that when the strings are adjusted/tightened, it stabilizes the guitar's neck against the tension from the strings.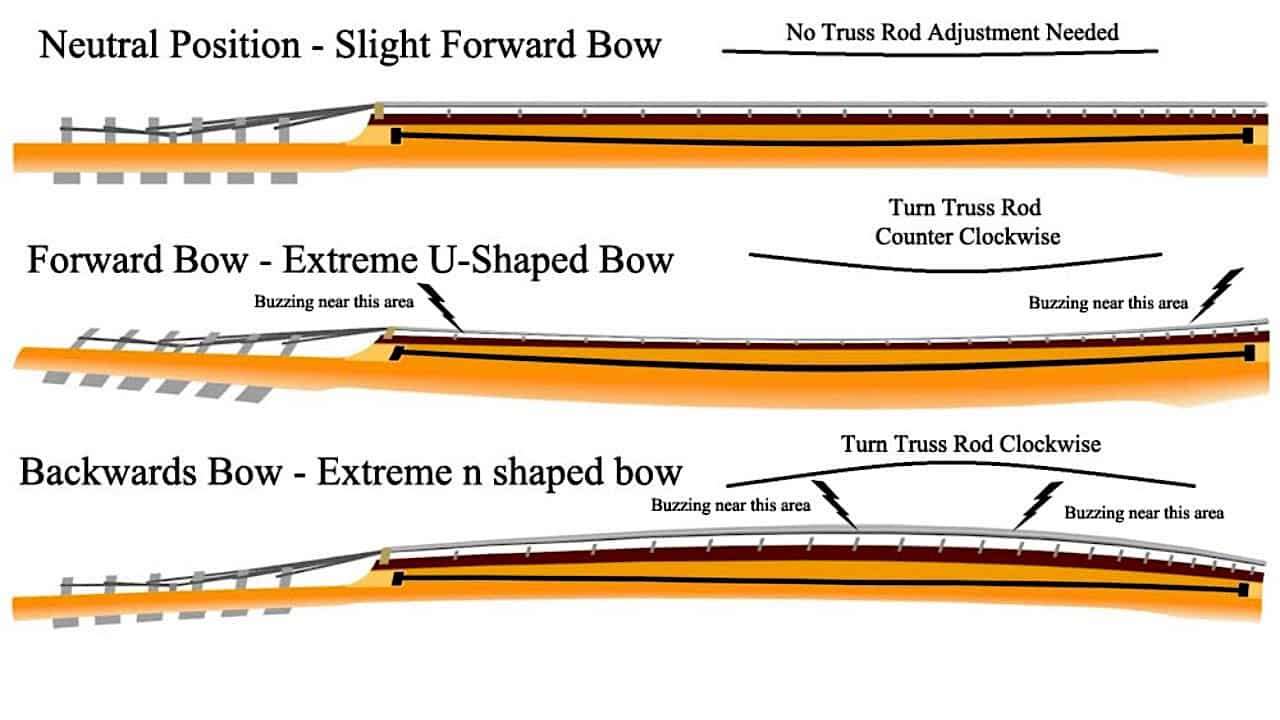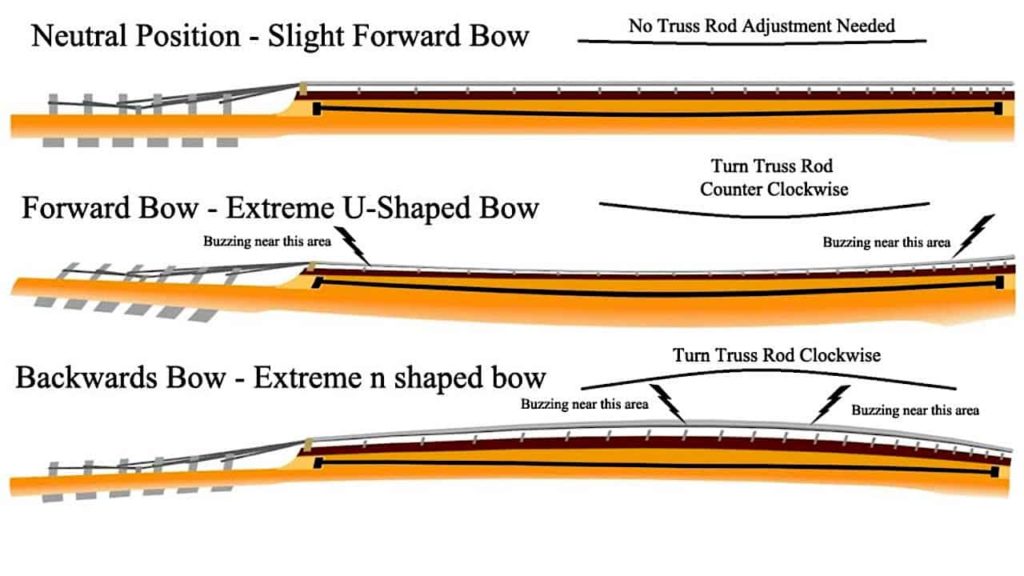 This side effect is that the guitar neck could break when under heavy string tension.
2. Lesser No. of Frets
The number of frets on a normal fully-sized guitar is 20 or 21 frets. However, the lower-end guitars have a slight disadvantage of having only 18 frets.
You can completely ignore this if you are not going to utilize the full potential sounds from a guitar. The guitar sounds will change with the changes to fret counts.
Definitely, this is not a problem for beginner guitarists.
Now that you have understood the basic idea of this cheap, inexpensive guitars, let check some guitars!
The 2 Best Cheapest Guitar in India
This is one of Amazon's best-selling guitars that happens to fall in this category of cheap, affordable acoustic guitars.
As for the beginners, this shows how well the consumers are interested in this product like this. This is a 38-inch sized guitar with 18 available frets.
The material of choice on the body is Linden wood (similar to base wood).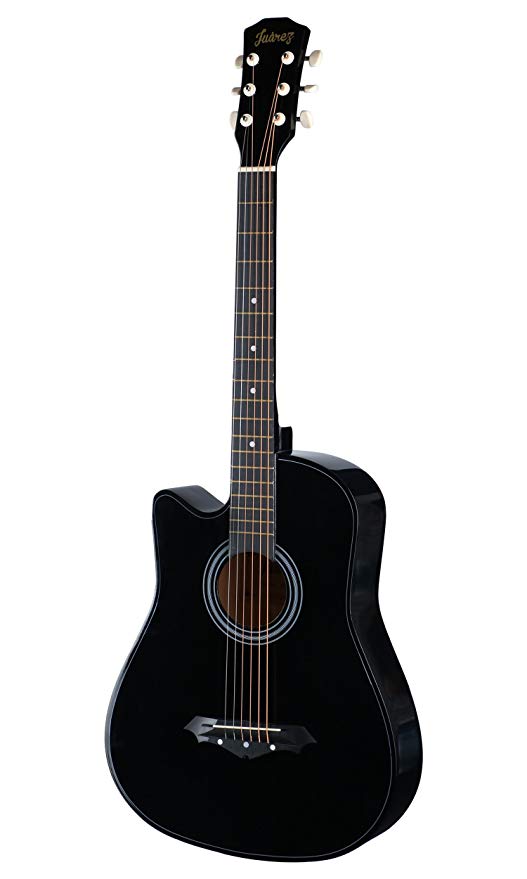 Although not the best quality wood for the guitar body, It doesn't have many side effects other than open to getting dents quickly.
Action on the guitar is fairly good.
Specification:
Shape: 38-inches with cutaway design
Size: 98 x 40 x 10 cm (2.06 Kg)
String: 6 strings (steel)
Material: Linden wood Fingerboard, Ebony fretboard
Kit includes – strap, bag, strings set, and 2 picks
The tuning of the guitar should be properly done either by yourself or by a professional before you start learning.
Talking of sounds quality, the tone is decent, and plays average sounds.
The complete guitar kit is a good complementary gift along with the guitar, which is much appreciable for this affordable cheap price.
Pros
Great looks with cutaways
Decent tone quality for price
Light weight
Even though the guitar is not entirely for a beginner, it's okay to purchase it without having any expectations on the long-lasting of the product.
At the very near budget for the cheapest guitars in India, we have the Intern INT-38C acoustic guitar.
The product looks way too similar to the above Juarez 38″ guitar, and most of the features are same to same.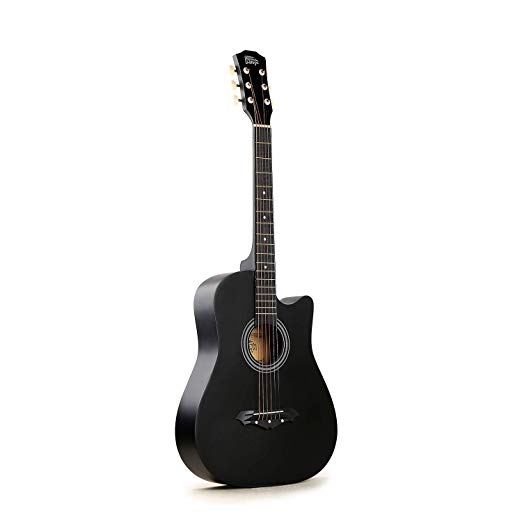 The looks and quality are both amazing.
Specification:
Shape: 38-inches with cutaway design
Size: 98 x 40 x 11 cm (2.1 Kg)
String: 6 strings (steel)
Material: Linden wood Fingerboard, Maple fretboard
Kit includes – strap, bag, string set, and 3 picks
It's lightweight at just 2.1 Kg and being a cheap guitar, it's obvious to not have a truss rod.
Talking of the tone quality, there are pretty dull.
The stock guitar strings provided by the manufacturers are of low quality and not recommended for a complete beginner. It's better to buy good quality 12 gauge bronze strings and use them with this guitar.
This will bring a good improvement to tone quality and also help you strum easier.
The quality of accessories provided with the guitar is of very basic quality – but good for the price.
Pros
Good Cutaway design
Decent tone quality for price
Light weight
Cons
Bad quality strings
No Truss rod
The bridge is fixed and doesn't have any pegs which makes it easy to change the strings, however making customization difficult.
This is a great guitar for beginners even for adults, with the condition that you a good pair of quality strings.
I personally would recommend this product as the best cheapest guitar in India out of the two.
Frequently Asked Questions (FAQ)
1. Where can I buy cheap guitars?
You can buy these cheap guitar from offline shops or online sites – Amazon, Bajaao and more. When you are buying online, make sure to check if the seller supports replacement guarantee. This will help you ensure that you get the product good in condition.
2. Why Cheap guitars are better?
The cheap guitars are only "good for children" who would like to start learning at a young age. Like said above, the cheap guitars don't last long, so its always advised to buy guitars on a higher budget around 5k-7k in India.
3. What's the difference between a cheap guitar and an expensive guitar?
The main difference being the premium brand signature sound, and lifelong durability. To have a better learning curve, a mid-expensive yet affordable guitar is the key. Even the smallest of strumming is easier on a guitar with a premium class product.
Conclusion
Even though both the guitars aren't perfect enough, it all that you can get the cheapest guitar in India.
We discussed so many things and why you should invest in a quality investment guitar. It serves you the purpose to learn guitars very easily. You have to try a professional guitar for once to understand this.
On a positive note, these cheap guitars can make a great enjoyable gift for children to encourage them on a musical journey.
Make best Investment!