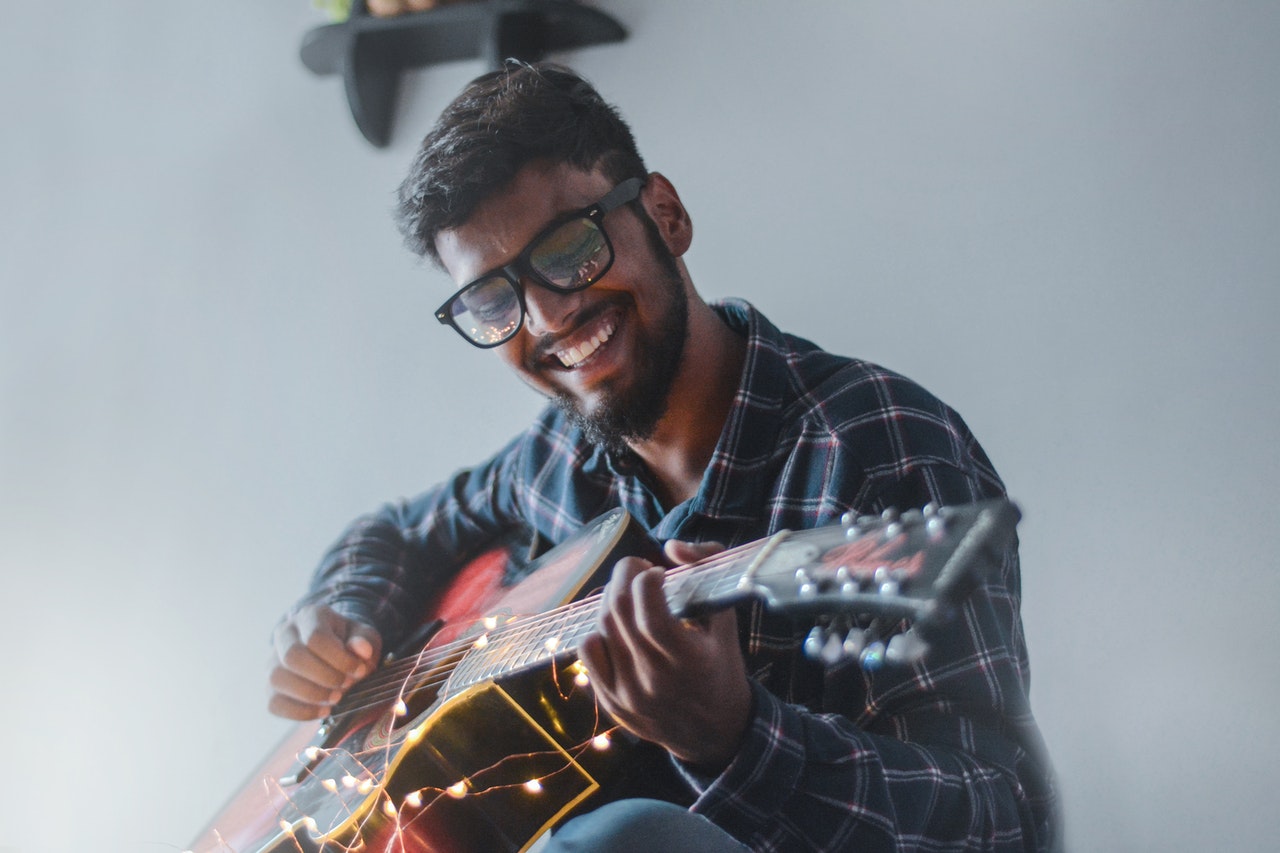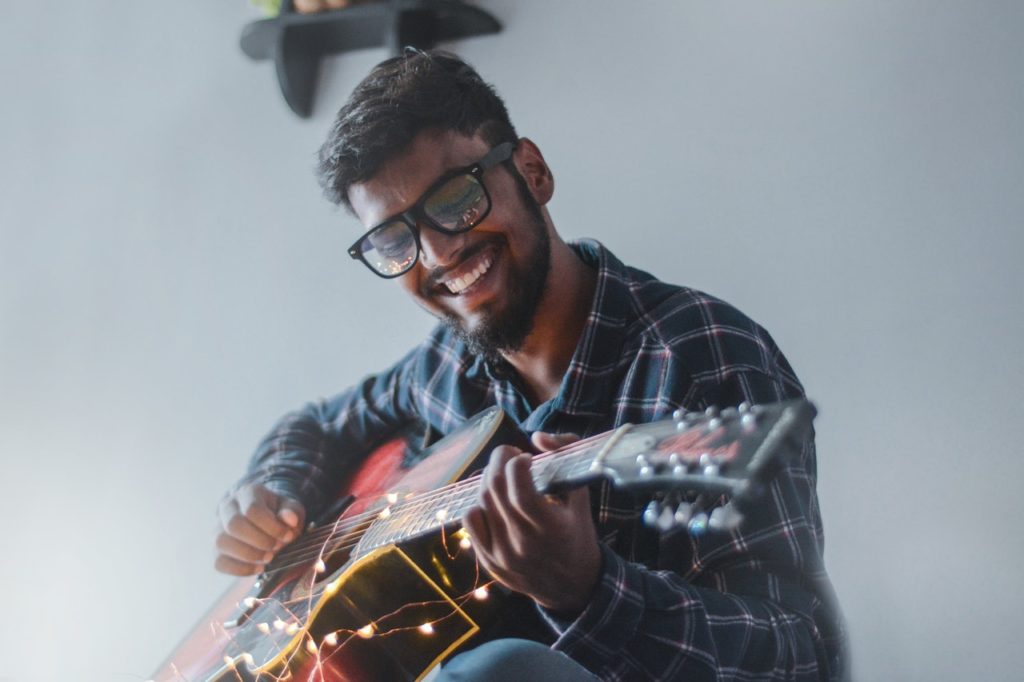 Looking for the Easy Hindi songs on guitar to start practicing on your new one?
I know it would be a difficult time for you when you don't have any guitar classes around you.
Also, getting the free time is not the same for everyone to play the guitar. That's why I feel it would be amazing to start just right with the easy Hindi songs on the guitar.
If you don't have a guitar to start with, we recommend you check out our article on the best guitar for beginners.
The best acoustic guitar we recommend for a beginner under 10k is
Yamaha F310
, with both brand name and value for money.
These guitar songs are easily playable for a beginner and intermediate with very little effort. Some of them are to play old Hindi songs on Guitar.
Easy Hindi Songs on Guitar
If you want to learn how to play these songs, Just google them up with term 'SONG NAME' + 'Guitar Chords' and you will get the guitar songs Hindi chords.
Recommended: Instead of just written chords, learn from video lessons, YouTube pretty much has almost all the famous song chords up there.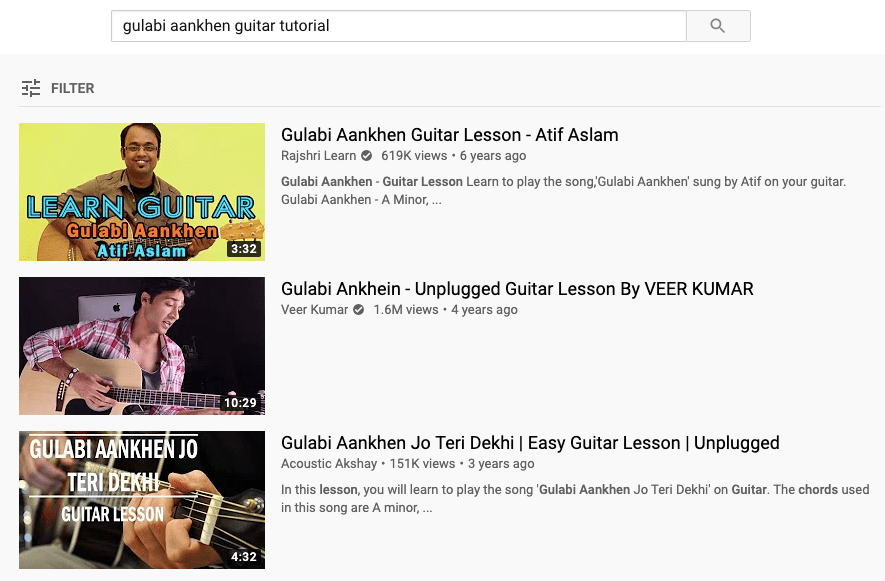 Let's begin!
Allah Ke Bande
Every 90's kid knows this song, sung by none other than the great Khailesh Kher. Starting with the words "Tuta tuta ek parinda aise tuta ke phir judna paaya…", Its a very classical song to begin with.
Pani Da Rang – Vicky Donor
One of the next easiest songs to practice on is Pani Da Rang from Vicky Donor.
This was the song that proved Ayushmann Khurrana's real potential in the singing line. It's penned with the majestic Punjabi language, adding a Punjabi touch to it.
Tujhe Dekha To Ye Jaana Sanam – DDLJ
From the most favorite Bollywood movie of all time, DDJL has this song featuring Shah Rukh Khan & Kajol sung by Lata Mangeshkar.
This is a widely popular song among all guitarists. You must definitely try playing this, at least a try.
Ajeeb Dastan Hai Yeh – Dil Apna Aur Preet Parai
This song was composed by Shankar Jaikishar, penned by Shailendra and sung by Lata Mangeshkar for the film Dil Apna Aur Preet Parai
Jaaneja Dhoodhta Fir Raha – Jawani Diwani'
You will have heard this song humming in 'Main hoon na' movie by Shah Rukh Khan. This another beautiful song is produced by Pozy Dhar from the movie ' Jawani Diwani'.
Papa Kehte Hain – Qayamat se Qayamat Tak
Life during those days was so uncomplicated. Without technology we were so happy, standing by our neighbors, local street games, summer vacations, winter vacations were eagerly awaited, would plan with brothers, sisters, cousins, and neighboring friends.
Where are those days lost? Where are the kids lost? Where is childhood lost? 🙂
These songs were the only relief to all of us after our homework was done, Chitrahaar, Rangoli, were the programs for which we would wait an entire week to watch.
Ek Hasina Thi – Karzzzz
This song was beautifully done by music director Himesh Reshammiya, sung by himself and Shreya Ghosal.
Sajna Aa Bhi Jaa – Waisa Bhi Hota Hai
This "Sajna Aa Bhi Jaa" is performed by Shibani Kashyap.
Chahun Mein Aana – Aashiqui 2
I still feel this is definitely one of the top picked songs for any guitarist to begin playing.
"Tu hi ye mujhko bata de Chahun main ya naa.."
translating it to…
You only tell me, Should I love you or not…
You really gotta listen to this.
Boond Boond Mein – Hate Story 4
Ghoomar – Padmaavat
Sun Raha hai Na Tu – Ashiqui 2
This 2013 movie – Aashiqui 2 starring Aditya Roy Kapur, Shraddha Kapoor, the most romantic movie of that time.
Gulabi Aankhen – The Train
This was another famous Hindi guitar song 'Gulabi Aankhen' from the 1970 movie 'The Train'.
You can never agree, this is not just my favourite but everyone's favourite back in those days and still now. 🙂
Listen to this beautiful rendition from 'Sanam', where they went all the way to the Maldives to shoot this amazing video song.
Doorie Sahi Jaye Na – Doorie
From the music album 'Doorie', Atif Aslam beautifully composed and sung musical is our next easy guitar song you can try.
Dooba Dooba – Silk Route
O Mere Dil ke Chain – Mere Jeevan Saathi
The original singer is Kishore Kumar. Music Director – R. D. Burman.
Aye Khuda – Pathshala
Aye Khuda is a Hindi song from the 2010 movie Paathshaala. The singer is Salim Merchant, the composer is Hanif Shaikh.
Lamha Lamha Doori – Gangster
Lamha Lamha Doori is a Hindi song from the 2006 movie Gangster. Lamha Lamha Doori singers are Abhijeet Bhattacharya, Sunidhi Chauhan.
Beginning with the translation of the words – Every second the distance melts, In whose fire does the dew burn.
This is a little hard song to play but gets easy on constant practice.
Tum Se Hi – Jab We Met
From the movie – Jab We Met (2007), This song stars Shahid Kapoor & Kareena Kapoor. Sung by singer Mohit Chowhan,
Kya Mujhe Pyaar Hai – Woh Lamhe
Everyone knows this song. This song begins with the lyrics –
Kyun Aajkal Neend Kam Khwaab Jyada Hai
Lagta Khuda Ka Koi Nek Iraada Hain
Te Amo – Dum Maaro Dum,
Tere Sang Yara – Rustom
Cool fact: This song is one of the famous songs of Atif Aslam.
This romantic song is written by Manoj Muntashir, composed by Arko Pravo Mukherjee, and sung by Atif Aslam.
Main Rang Sharbaton Ka – Phata Poster Nikhla Hero
Why are all the romantic songs sung with Guitar? Hahaa.
Another superhit romantic song, sung with magical vocals of 'Arijit Singh.
Mera Mann Kehne Laga – Nautanki Saala
This is a soft romantic song from 'Nautanki Saala' movie, starring Ayushmann Khurrana.
Tum Hi Ho – Aashiqui 2
A romantic track created a great buzz among the Bollywood music industry. The song is released on 4th April 2013 by T-Series.
This song is still a gem.
Tera Yakeen Kyu – Awarapan
Taken from the film Awarapan, the song starts with "Tera yakin kyon maine kiya Nahi tujhse raah kyon juda..".
Conclusion
It's always easy to say I can't do it. But with constant practice everything is possible. If you were able to play a little, then it's a huge progressing step.
I recommend you to watch Guitar Tutorials on YouTube and learn there. I personally prefer the 'Acoustic Pahadi' channel. They do add great value to beginners.
Rest is all up in your hands, keep the fingers rocking on those guitars, and make the music go crazy in your head.
Good Read!