Choosing the best guitar amplifier in India is always confusing for the guitarists. They often make the wrong choice and settle for low-quality amps.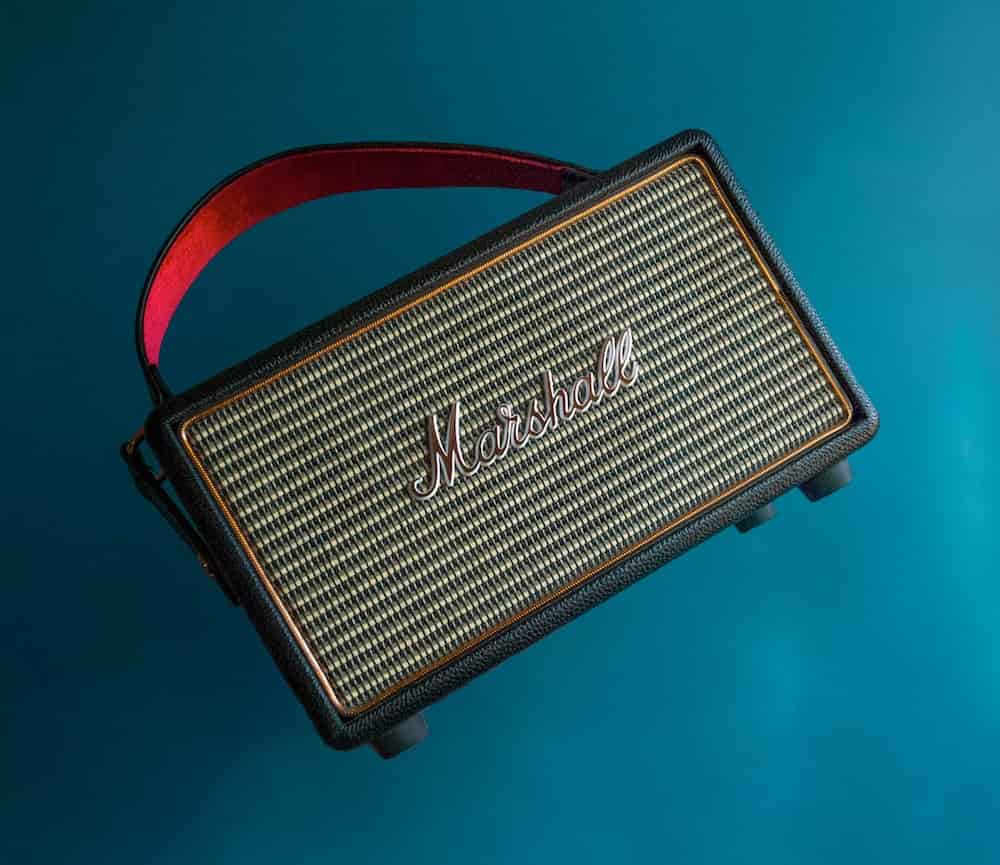 Even though all the amps look the same, they are made to be more compatible with either electric or acoustic guitars.
Although you can use them on both the guitars, there are some things to keep in mind.
If you are in the guitar market right now, Don't pick the Guitar amp you first plug into. You are doing it wrong.
I have written this in-depth guide to help you pick not just the best sounding, but the best value for money guitar amplifier in India.
If you are interested in understanding the basic buying guide for guitar amps, go ahead continue reading.
…else here is the list of best guitar amplifiers in India.
Which Guitar Amp To Buy?
There are so many guitar amps available in the market, small and large portable ones too. Go with the one that suits your need and budget.
Electric Guitar Amp vs Acoustic Guitar Amp
The electric guitars amps are designed to enhance their tone and amplify the electric sounds.
For electrics guitars, the amp is a mandatory need, not an accessory.
Whereas an amp for an acoustic guitar needs to be distortion-free, massive dynamic range, clean, and have a flat frequency response.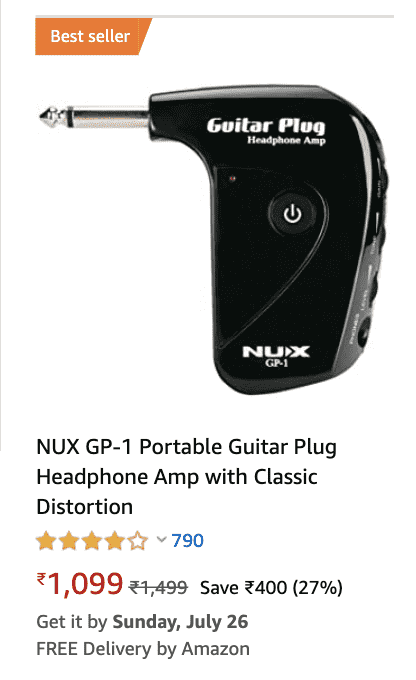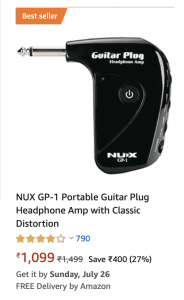 Yes, This means there is a lot of difference in both.
However, there are few guitar amplifiers in the market that have optional features to adjust the tone to use it for both electric and acoustic guitars.
This NUX GP-1 Portable Guitar amplifier works with any Electric, Semi-Acoustic, and Bass Guitar.
It's a nice product especially for those who are not willing to spend much money on buying an amp for your guitars.
This has a 3.5mm sound output jack, which can be connected to a headphone/speaker.
This product has great sound for the price and would be great if you are just starting out at a low budget.
We had mentioned in our best electric guitars article that if you are low on budget, you can go for any guitar pickup amplifier.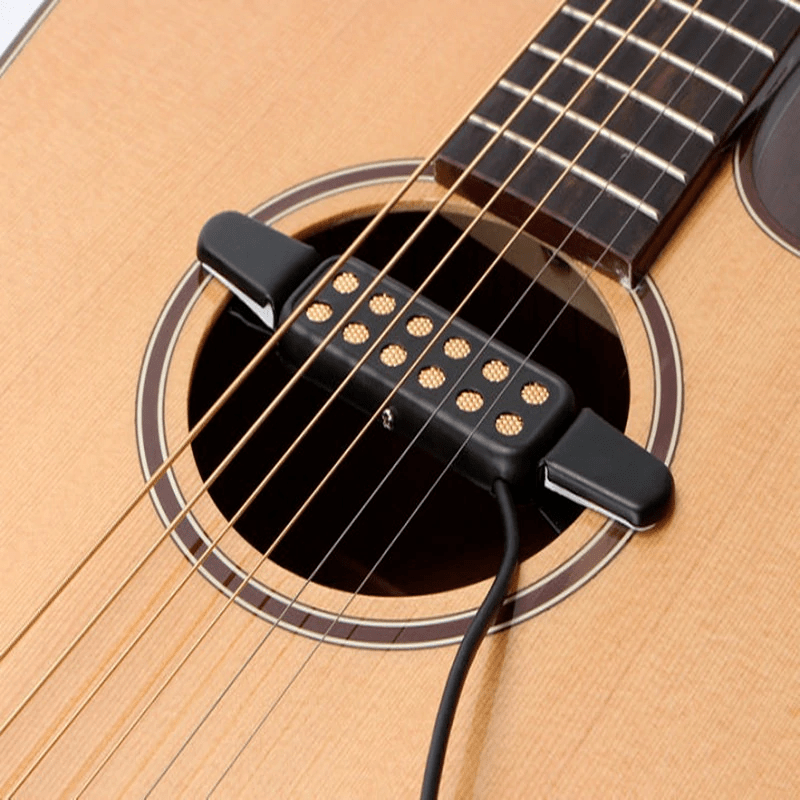 This fits according to the gap between your strings and the base.
It catches the guitar sound and sends it to the amplifier. That's it.
This is available for less than Rs. 1000 and is good to work with any acoustic guitar, semi-acoustic, and electric guitars.
The sound quality isn't that impressive as expected.
Upon amplification, the true pitch of the guitar tone shifts a little.
However, This can be easily fixed in post-production using any audio editing software like Audacity.
Guitar Amplifier Price in India
The general guitar amp price in India starts from Rs. 6,000 and goes till Rs. 22,000 according to the wattage power and amp brand you want.
A minimum of 15 watts amp is perfect for most users, and I recommend spending a good Rs. 12,000 budget range to get the best value for the money guitar amp.
The important thing here is to pay only for the features you will use and save money.
Best Guitar Amplifier in India (2021)
If you know about Fender brand, which is the international brand for music instruments, You will definitely know its brand quality.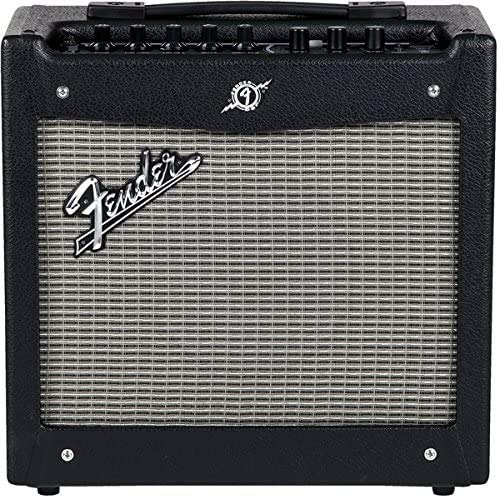 Fender Mustang is their Guitar amp powered at 20 watts, which is everything you would want from it.
It has top-notch sound quality and excellent build quality.
It's also the most preferred amps by many guitarists in this budget range.
It comes with 24 inbuilt presets that can easily set the right tone as per the music you play.
The best part is that a lot of presets can be downloaded from the brand websites/forums and used on Guitar amps. (Works in most of Fender & Marshall Amps)
Features
No. of Channels: 1, Total Power: 20W, Weight: 8.47 kg
Connectivity – USB, Headphone out, Auxilary in
24 onboard presets (more downloadable)
Best for home & outdoor performances
You can also listen live just by plugging in your headphone to the amp, which helps at late night practices. Keep in mind, this version doesn't have an extra input as a microphone input.
I highly recommend this amp to all levels of guitar players. This would be perfect for home & outdoor degree of usage, for this value for money.
No doubt, Marshall guitars amps are the most popular guitar amplifiers of all time. They produce the most professional amplifiers in the market.
For any beginners/intermediate, this is the handiest guitar amp they can get at this great price.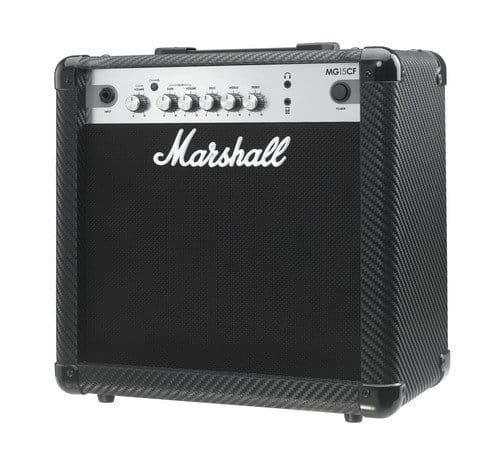 Its aesthetic look made of Carbon Fibre is something you need to adore.
Build quality and construction work is very good.
Talking of the sound quality, it's clean and has a good punch sound.
If you are facing any distortion or noise, it's convenient to plug-into the power plug with ground earthing.
Features
2 Channels, Power: 15W, Weight: 7.39 kg
Headphone out, MP3 In (merge track)
This guitar amp also has a handy MP3/line in for jamming along to a track, and also a headphone line out. Definitely the best at a starting budget.
Fender champion is the amazon preferred choice in guitar amps. It has amazing reviews and is priced almost a little higher than Marshall 15 watt amp.
This has different sound styles ranging from clean, tweed, blackface, British to metal, and fx with 7 selections (reverb+ch, chorus, flange, delay+rev, wah, bin, tremolo).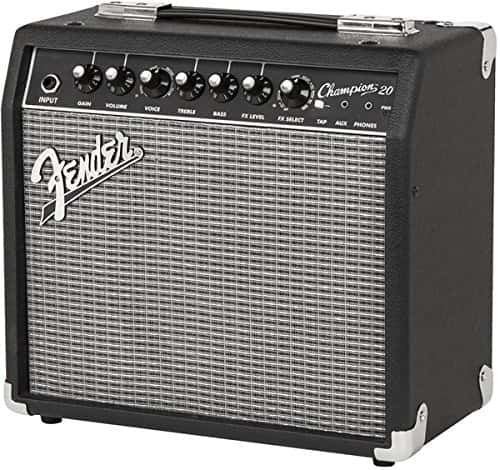 The overall sound quality is clean, loud, and warm.
It has an aux input to connect your laptop or phone. and an input for the lead cable.
Features
2 Channels, 20 Watts, Weight: 8.5kg
Clean, Loud & Warm sound
Connectivity: Aux input, Headphone out
This small beast is a well-recommended product to beginners & intermediates and will be definitely worth your money.
One next best guitar amplifier in India is Marshall MG4, a golden series guitar. It powers 15 watts, which never fails to impress.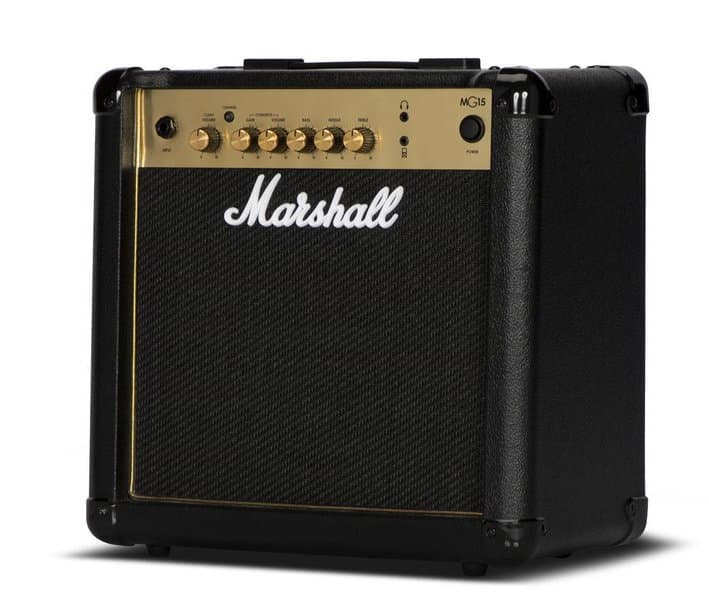 It has great sound quality, very good for those who play and practice in a room.
No discernible time lag and amplification is virtually instantaneous.
Features
2 Channels, Weight: 7.6 kg
Size: 44 x 39.5 x 23 cm
Marshall is known for its unique sound signature of warmth and pristine. This can be a good option for your buy.
Boss Katana-Mini Guitar amp is a well-appreciated amplifier for portable and traveling guitarists.
It powers 10 Watts, which is perfect for small home environments and singles practice. Just plug your electric guitar into this and enjoy it.
Its a well designed, & well-engineered product weighing just 1.5 kg and delivering an impressive experience.
It has 3 sound settings – Clean, crunch, and more distorted "brown". This should be good for those who like to play on minimal levels.
You can power the amp with 6AAs batteries (plays for at least 6 hours) or else power with a 9-volt adapter.
This mini amp can surely impress you if you are looking for small, portable 10-watts amp.
This Fender Rumble Amp, even though it's called a bass amp, doesn't necessarily give bass-heavy outputs.
This is just as normal as other amps, however with fewer controls.
This doesn't include any functionality to work with presets like other guitar amps, only controls are – volume, bass, mid & treble.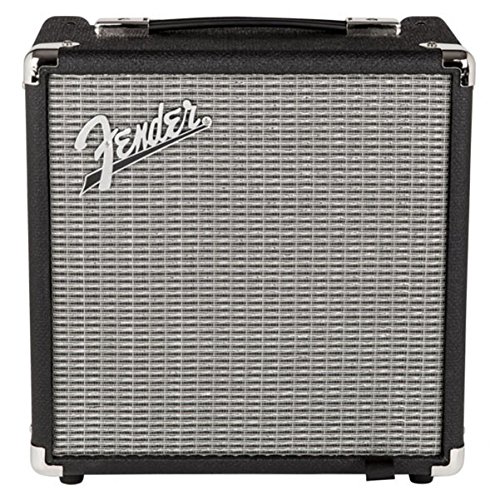 Features
2 Channels, 15 Watts, Weight: 8.44 kg
Connectivity: Headphone-out, Aux Input
Minimal controls, Decent Amp sounds
This is a good amp to consider at this budget price range.
The plus points of this amp are the build quality, inbuilt features, and what you will like the most is the rich punchy sound from such a little combo amp.
The control panel has 6 types (Clean Warm, Clean Bright, Crunch, Super Crunch, OD1 and OD2), gain, and volume control.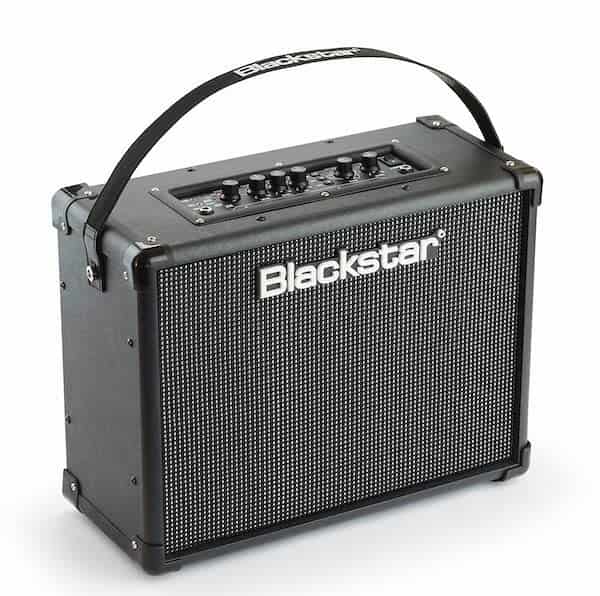 Most importantly the EQ on this is very good. This guitar amp is best for open mic nights and chorus.
Best Guitar Amplifiers for Stage Performance
This powerful 50 watts is enough for your crazy performances on stage. It can pretty much do all the things you would ever want to.
Boss Katana amp is designed with the best sound quality, that it's difficult to differentiate with good quality higher-priced amps.
For 50 watts amp, this is hands-down the best amp you can get.
You may connect pedals if you want, otherwise, there is a pedal preset in itself. Its dimensions are 119.4 x 101.6 x 61 cm, a little heavy to carry around.
Features
4 Channels, 50 Watts, Weight: 11.3 kg
15 Inbuilt Presets (More downloadable)
Clean & Best sounding for mid-sized stage performance
From clean, rock to metal, this has the best sounding and you will be surprised to get at this price. This is the Mark1 variant, the Mark2 variant is unfortunately not available in India.
A 100 watts guitar amp is definitely overkilling amp and is only for concert purposes only. Only serious guitarists would require this.
It's huge (59.10 x 28.29 x 52.78 cm) and heavy at 20 kg. Even at the lowest volume possible, it's very loud and clear.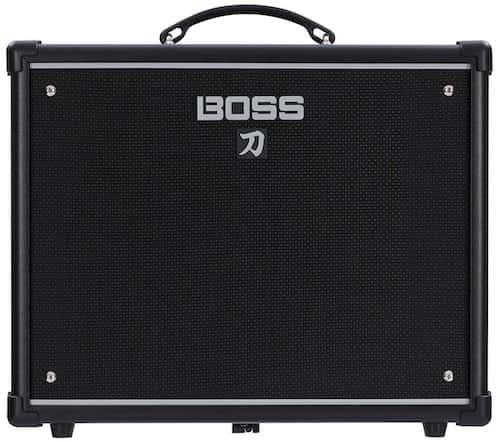 Same as the other guitar amps, this also has preset & effects.
It comes with 4 channels and is sure to deliver the performance you would want.
Guitar Amplifier Buying Guide
It's simple to invest in higher guitar amps for getting more features. But that would be out of context if you don't regularly use that feature properly.
Instead, pick a budget best guitar amp according to your use.
1. Brand Matters
Have you ever noticed how the sound quality of the musical instruments of a particular brand remains moreover the same across its models?
Similarly, some brands give a unique sound signature to their guitar amps to stand out from other brands. Yamaha, Fender, Marshall, Boss are few of them.
There is no way you can taste those sound quality online.
You may borrow the guitar amp from your friends, or visit an offline guitar store near you to experience the sound quality and take it as your preference.
Also when you are buying, buy only from renowned brands.
2. Watt Power = More Amplification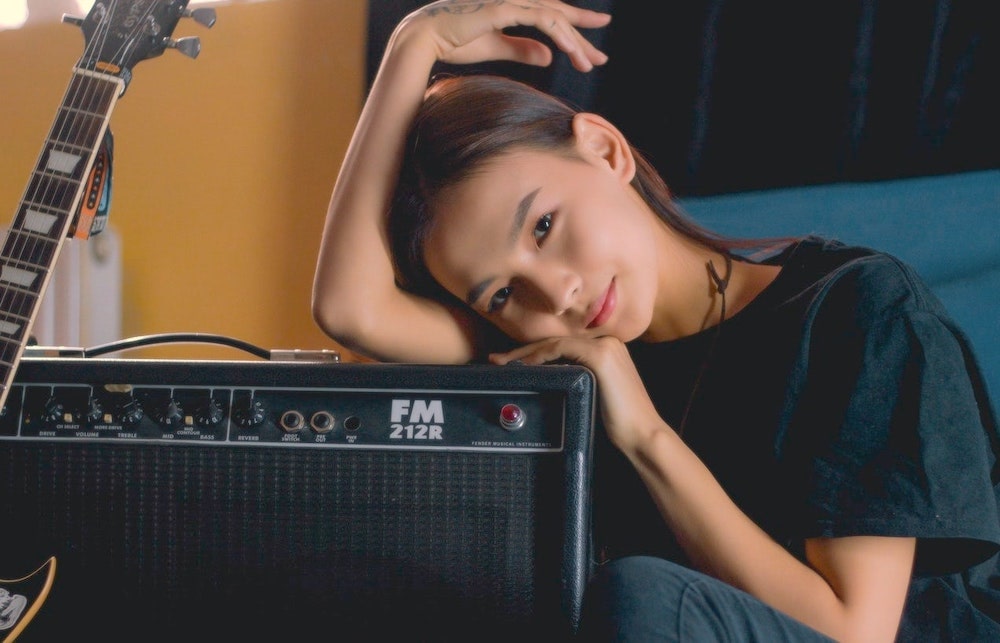 A 100-watt guitar amp is an overkill for a home guitar setup.
At the same time, a 10-watt amp is too low for playing at the club.
Choose the right wattage according to your primary application.
I would suggest the following for your purpose:
Home Recording/Outdoor – 10-15 watts
Band/Stage Performance – Min 30 watts (50 watts would be perfect)
For good control and prevent later upgrade, a 15-watt guitar amp is suggested for a beginner/intermediate.
3. Solid State vs Tube/Valve Amp
Tube/Valve amps are the best when it comes to giving loud clear & warm sounds. The only downside they face is that its expensive and requires frequent tube replacements.
Also, there is a very high chance that these tube amps would require repair every 6 months.
This gave rise to the new technology of solid-state amps, which gives more reliable and robust good sounds. Also, they are light and portable.
Our article only describes the solid-state amps, which is the best for everyone.
4. Multi-channel EQ Support
Most of the digital amps these days come with 2-channels, which is sufficient for beginners/intermediates, for clean sounds.
Guitar amps with 3 or more channels are preferred by some guitarists, which is useful for players who play many different tones.
These channels can also have separate equalization controls and produce better sound effects.
Conclusion
Overall choosing the right guitar amplifier was not so difficult.. right? I am sure you will make the right decision by buying the best guitar amplifier in India for your guitar.
Also, that's not it. Make sure to put in the hours into learning the guitar because the amp is going to amplify everything, and you need to perfect your guitar playing skills.
Feel free to share this knowledge with your friends, and guitar buddies. Give them a shoutout to our website too, if you loved it!
Keep it amplified!